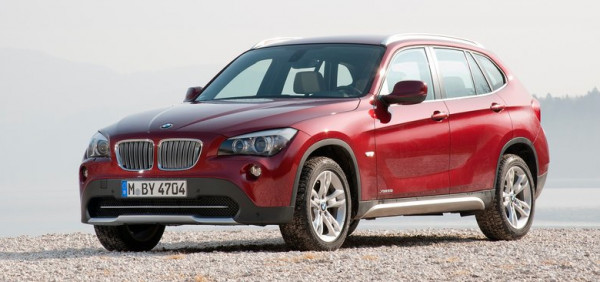 BMW will soon begin selling their smallest utility vehicle in the United States, The very car-like X1, already on sale in Canada, has been rumored off and on to be a part of BMW's future American lineup. And in the press release BMW issued in the lead-up to the New York Auto Show, BMW didn't mince words. It's no longer rumor and innuendo but clear and present intention.
Says BMW: "The hotly anticipated BMW X1 Sport Activity Vehicle comes to the U.S. for the first time. Its rising horizontal lines give it a sporty, elegant profile, while the classic BMW kidney grille, distinctive headlights and L-shaped taillights are unmistakably BMW. The BMW X1 is also the latest BMW vehicle to offer the TwinPower Turbo 4-cylinder engine which delivers BMW performance with reduced fuel consumption." And here's the kicker, "The updated BMW X1 will be available in U.S. showrooms in summer 2012."
That's soon. BMW was obviously in a position to make a snap decision. Perhaps because of the X1's success in Canada, BMW USA issued a request to BMW HQ in Germany earlier than they expected. And how can they not? The small luxury SUV/Crossover category is an active playground with competitors coming in from all fronts. Besides, BMW shouldn't want to afford shipping cars to Canada that it doesn't ship to the U.S.
When BMW first introduced the first-generation X3 nearly a decade ago, it appeared strange to some observers, in more ways than one. For starters, the X3 wasn't the prettiest of utility vehicles. Moreover, the X3 simply seemed to be a cheaper, less good-looking version of the X5. It didn't ride as well, didn't go as well, didn't feel as nice, didn't cost as much, but took up almost as much space as the larger BMW SAV. Nevertheless, the X3 spawned a market where the Land Rover Freelander/LR2 never could.
Land Rover itself is now competing in this arena with the high-end Range Rover Evoque (unfortunately awful in Evoque Convertible Concept form but generally awesome.) The Mercedes-Benz GLK has proven popular from the start, and Mercedes-Benz isn't done with the first-generation GLK, either. The New York Auto Show will also host a facelifted GLK which will be made available with a 2.1L turbodiesel generating 190 horsepower and, wait for it… 369 lb-ft of torque. That GLK diesel might be the vehicle which makes people pass over the X1, but they'll need to wait. While the X1 hits dealers in summer, the GLK BlueTec isn't likely to be ready for pickup until early 2013.
Another German, Audi's Q5, has proven to be a stern competitor for the GLK and X3, as well. Sales have risen 20% through the first 1/6th of 2012. In February, Audi USA's best February ever, the Q5 was Audi's second-best-selling model, accounting for 21% of the company's U.S. volume. Yet another European, the Swedish XC60, has been an integral part of Volvo's lineup from the day it went on sale. As the Q5 does for Audi so does the XC60 work for Volvo: it was the U.S. branch's second-best-selling model in February, accounting for 24% of all Volvos sold in February as sales rose 6%.
Acura, never at the top of the segment but never at the bottom, is pursuing success harder and faster with the updated 2013 RDX. The Infiniti EX35 is aging, not unlike Land Rover's LR2, and should see big changes in the near future.
Premium badges affixed to ever-so-slightly larger luxury utility vehicles have also been a recipe for success. The Lexus RX and Cadillac SRX have starting prices of $39,075 and $35,485, respectively. Compare that with the X3's $37,100 pricetag or the GLK350's $35,880 entry price or the Q5's $35,600 MSRP and you'll see why the first-to-the-party RX and SRX are America's two best-selling premium utility vehicles. You'll also see why BMW feels the X1, with a practical rear cargo area and hugely competitive sticker, may be able to attract large numbers of American buyers despite its low-slung stance (it's basically a tall wagon with SUV-like body cladding) and smaller interior.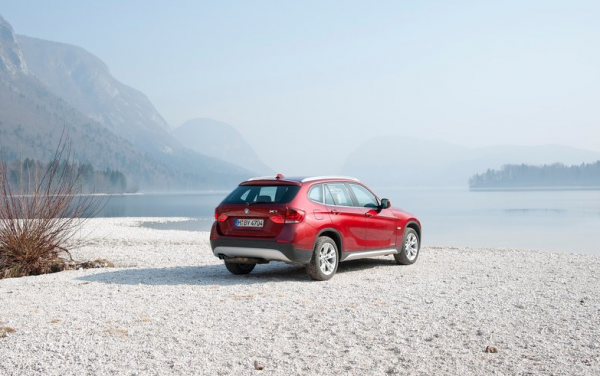 As for the X1's supposed competitive sticker price, using Canada as an example indicates the X1 xDrive28i will come at a discount of 8.1% compared to the X3 xDrive28i or 17.9% compared to the X3 xDrive35i. This would indicate the X1 will have a U.S. price between $34,100 and $35,050. BMW USA may seek a lower initial price to motivate buyers into a new idea. In the United Kingdom, for example, BMW's basic X1 is priced 22.3% lower than the basic X3. That doesn't seem likely for BMW customers in the U.S., but if a pricing strategy like that was to take effect, the X1 would have a base price under $30,000.
Canada is a different market, of that there is no doubt. It's a market more given to pickup trucks and to smaller cars, more apt to buy small SUVs and less likely to favour large SUVs. It's still worth acknowledging that Canadian BMW buyers have made the X1 the company's most popular SAV in early 2012, out-selling the X5 by 161 units, the X3 by 236 units, and the X6 by 554. This goes a long way in explaining why BMW USA wants this car, and why they want it now.