Nothing can be more exciting today for any company than launching a new website. It is exciting and a little scary, but we did it and that is the most important. Montway's team of web developers, designers, and content writers worked hard to make it happen. We produced a new design and upgraded our administrative system all with one purpose in mind – to make it easier for current and prospective customers to calculate car shipping quotes and book their service online.
Check out the new site!
Check how much does it cost to ship a car
Home page
The re-designed site is new, modern and user friendly but not strikingly different from the old site as many of our returning customers will notice. We wanted to keep the familiar style and structure in order to make it easier to navigate. There are still three tabs containing the main information as well as the little rates calculator on the left-hand side. Another great feature now is the 'support' tab in the header. By clicking this link customers will be taken to Montway Customer Support board where they can find answers to many of their questions and ask our car transport coordinators.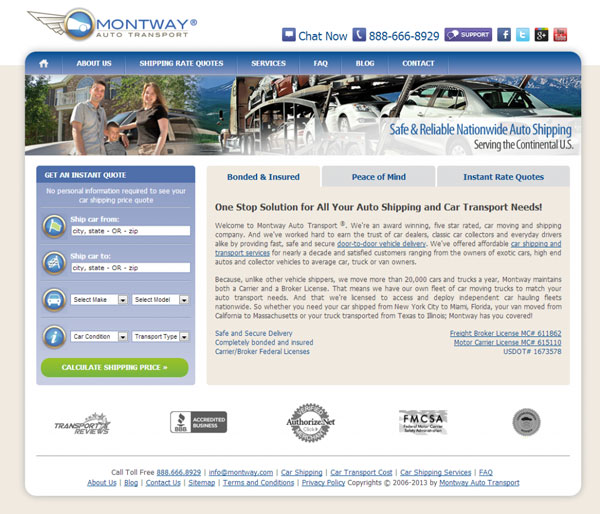 Auto transport quote page
We have been known for providing one of the best online car shipping quotes calculator. Now with the new site, we have also improved our rates calculator and booking system. We have taken this tool a step further and it now provides city name and state suggestions and zip code validation.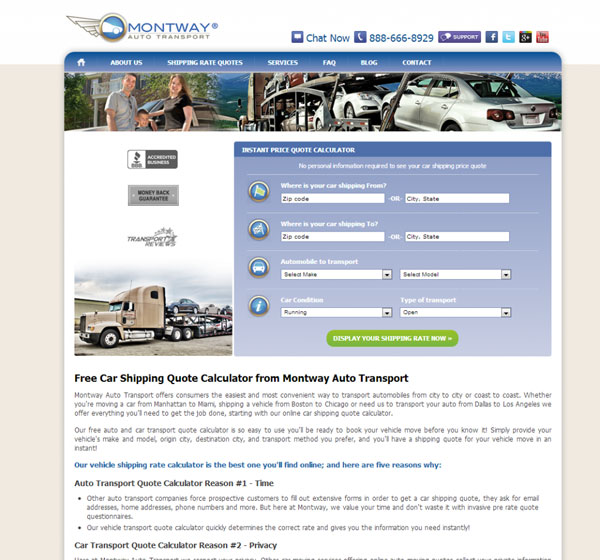 New payment options
When a prospective customer calculates the price then they will be given the option to pay in full online or pay the "Discounted Cash Price" by putting down a deposit. There has never been done before in the auto transport industry and we are very happy to provide on the market.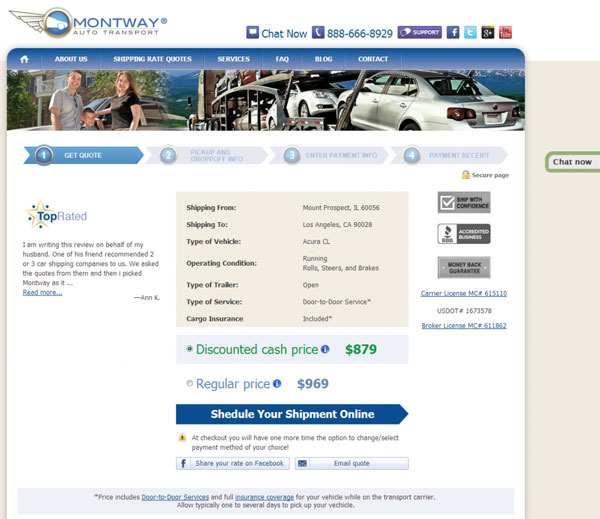 Email your quote and / or share it on facebook
Furthermore, we have added another great feature that allows customers to email their quote. There is a button they click and input the email address they want to send the quote to. There is also a Facebook share button for customers to share their quote with friends on the social media channel.
Car shipping services section
The newly enhanced Montway services section details information about the major auto transport services Montway provides. When a prospective customer hovers over the 'Service' main navigation tab the drop-down menu will display all services listed in the sub-menu.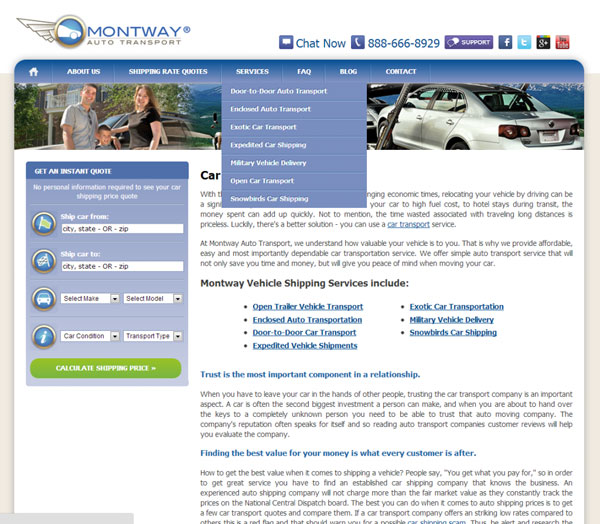 Reviews page
When choosing an auto transport company one of the deciding factors is what other customers have said about the service. We have now made it easy for our prospective customers to access Montway Auto Transport reviews directly on our website. The interactive reviews section provides full access to Montway reviews on some of the most important customer reviews sources such as Transport Reviews and Reseller Ratings.