Illinois Car Shipping
Expert auto transport services to and from Illinois
Shipping a car to or from Illinois? Read what customers say about using Montway:
I have been shipping cars back and forth from NY to FL for 20 years. My experience with Montway is the best I've ever had. Excellent communication with on-time pickup and delivery. A+ all the way!
December 10, 2022

Montway did an awesome job moving my 1974 VW Super Beetle from Los Angeles to Boise. They were easy to contact, the price was reasonable, and scheduling was simple. My beloved Beetle arrived in perfect condition!
December 10, 2022

I booked Montway to deliver my car from Florida to Maine. I received excellent customer service and an outstanding rate. The driver was courteous and helpful. I would recommend Montway without hesitation.
November 5, 2022

Montway's fantastic customer service was exactly as advertised. Not only did they honor their original price quote, the driver picked the car up on time and delivered it to the exact address requested. Great company!
September 26, 2022

The driver took care of my car, as well as the others on his truck. He treated each car like a delicate gemstone. He was so polite and informative throughout the entire process. I highly recommend using Montway!
October 2, 2022

We've used Montway twice to transfer one of our vehicles and have always had fantastic and friendly service. As a military family who moves around a lot, we will always use Montway.
November 8, 2022

I recently shipped 3 motorcycles through Montway and couldn't be happier with my choice. They were delivered without a scratch, ding or dent. I'll use Montway to transport my bikes again.
October 16, 2022

I experienced excellent door-to-door service. Their representatives were friendly and explained everything well. They shipped my daughter's car across the country. We would definitely use Montway again!
November 3, 2022

Through Montway, I've shipped two cars to Hawaii. Both times were flawless. I was very impressed with the process. I will always use Montway when shipping vehicles in the future.
December 7, 2022

This was my second time using Montway. My car was picked up in an enclosed trailer 2 days after booking and delivered within 4 days. Montway is the only car shipping service I will ever use!
September 24, 2022

Long-distance transport from Delaware to California. The transport was completed in less time than quoted. 100% stress-free experience in transporting our brand-new car across the country.
November 14, 2022

Montway shipped our vehicle from Florida to Illinois. While many of these companies used scare tactics and bad-mouthed each other, Montway gave a firm price and explained everything clearly. Our vehicle arrived on time.
November 8, 2022

I have used Montway several times and I can't say enough about them. Each driver was on time, courteous, and flexible. Dedicated and quality customer service. I've used competitors before and there is no comparison.
October 20, 2022

We experienced true door-to-door service from Texas to Florida. Our driver was very professional, keeping us informed throughout. Our car arrived in excellent condition. We've used Montway several times.
November 23, 2022

I shipped my vehicles 2,000 miles with last-minute notice. Montway did a fantastic job of facilitating quick pickup. They arrived early and in perfect condition! Montway performed way above my expectations!
October 13, 2022

Excellent service from Montway! Their process easy with good communication and consistent updates. Montway quoted a surprisingly low price, which was the final cost. The car arrived in 4 days without a single scratch.
December 14, 2022

Montway is professional with great service and pricing. My truck was picked up in Colorado and delivered to my doorstep in Maine. This is the best experience I've had yet in auto transport.
October 12, 2022

Montway's cost estimate was significantly less than others. Their customer service team was always available when I called. The driver was very polite and delivered our classic truck within 24 hours. A great experience!
October 25, 2022

I don't normally give 5 stars, but these guys are straight-up solid and prompt. Their price is more than fair. In a world where people talk – Montway delivered for us. I appreciate their service.
December 5, 2022

My experience with Montway was amazing. As a military family, we appreciate the military discount and making this an easy part of relocating! I definitely recommend Montway.
September 27, 2022

With concerns of shipping a classic car over 1,500 miles, Montway's communication was top-notch. The driver respected and protected the cargo. They were quick, easy, and reasonable, moving my car in just two days.
October 1, 2022

Montway shipped two cars across the country for our move. They responded to our questions promptly and their prices were the lowest. The cars arrived in excellent condition. We would use them again!
December 11, 2022

I booked Montway to transport a new car to my granddaughter for Christmas. They picked it up on time as promised and took it to her driveway in perfect condition. They did an excellent job!
December 8, 2022

Montway provided excellent customer service and was worth every penny. If you want to protect your vehicle from the elements, go with an enclosed transport.
October 25, 2022

Second time shipping with Montway Auto Transport. Communication was spot on and the car arrived in 3 days from Florida to Kansas. I will continue to use this amazing service!
November 16, 2022

I used Montway to transport a vehicle from MI to PA. I booked Friday and my vehicle was delivered to my driveway Monday morning. 100% satisfied and grateful for the experience. I would recommend Montway to all!
September 24, 2022

This is the second time this year I've used Montway to ship a vehicle long distance. I have been fully satisfied with all aspects of their service from getting a quote to their on-time delivery.
December 1, 2022

Montway's service was outstanding and their price was competitive. My car was picked up in Buffalo, NY and delivered just 3 days later in Colorado. Big thumbs up!
December 11, 2022

Montway shipped my motorcycle with ease. They have a straightforward process and I could communicate with them anytime. It was the right choice for me. Great company!
October 1, 2022

Montway is a great company if you are moving your vehicle across the United States. The crew loaded it on the truck in 15 minutes. In 72 hours it was delivered and parked in my driveway.
November 5, 2022

900000
+
Satisfied customers
Trusted by the world's largest brands








Car shipping in Illinois
Transporting your vehicle to or from Illinois
The Land of Lincoln. The Prairie State. Home of "Da Bears." "The Windy City." Illinois is known by many names. With forests, farmland, cityscapes and rolling hills, this Midwestern state has a lot to offer—urban or rural lifestyle, a range of major-league sports teams, a diverse history and plenty of opportunities to be active both outside or indoors.
Illinois is also a hub, smack dab in the middle of the country, where a variety of corporate headquarters are located, including Boeing, McDonald's, United Airlines and Walgreens. For this reason, many job candidates around the country find themselves relocating to the state. Alternatively, you may be heading there for a permanent change of scenery or extended vacation.
Get an instant quote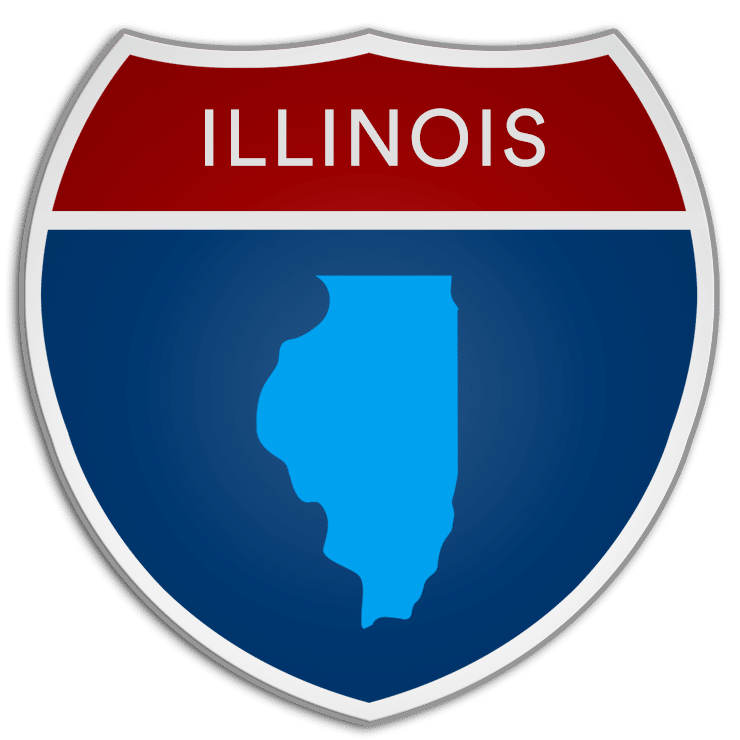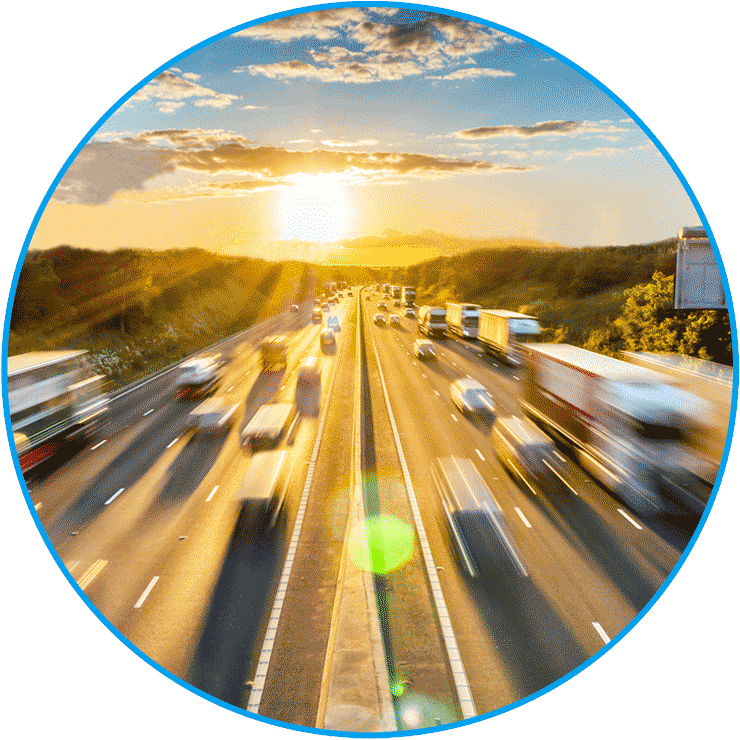 What to consider when shipping a car in Illinois
Whatever brings you to Illinois, you'll want your car, truck or other personal vehicle with you for your commute, for social events or just to explore the state. You can choose to drive the vehicle yourself, but if you're moving, you'll likely have a long list of other things to sort out. If you're traveling to Illinois for vacation and want your car with you, you may need to spend multiple days driving it there.
Auto transport is a convenient service for getting your vehicle to its destination safely. Depending on your vehicle make and year, transport distance, time of year and specific locations, the cost of your particular shipment can range from several hundreds to several thousands of dollars. Find the best value by working with a professional transport company.
Choose the best Illinois auto transport company
Your car is not only a big investment, it's also a possession that can bring comfort and convenience when traveling or moving somewhere new. With that in mind, you don't want to trust just anyone to transport your vehicle. You'll want a company that will treat it (and you!) with respect and provide the best service possible to avoid the car incurring any damage during transit.
Montway knows Illinois—it's the state we call home—but our expertise extends coast to coast. We help thousands of individuals across the country ship their vehicles anywhere in the U.S. As a leading auto transport broker, Montway knows our customers are looking for quality, friendly service and will provide that every time. Request a quote for Illinois car shipping or call (888) 666-8929 to speak with one of our representatives.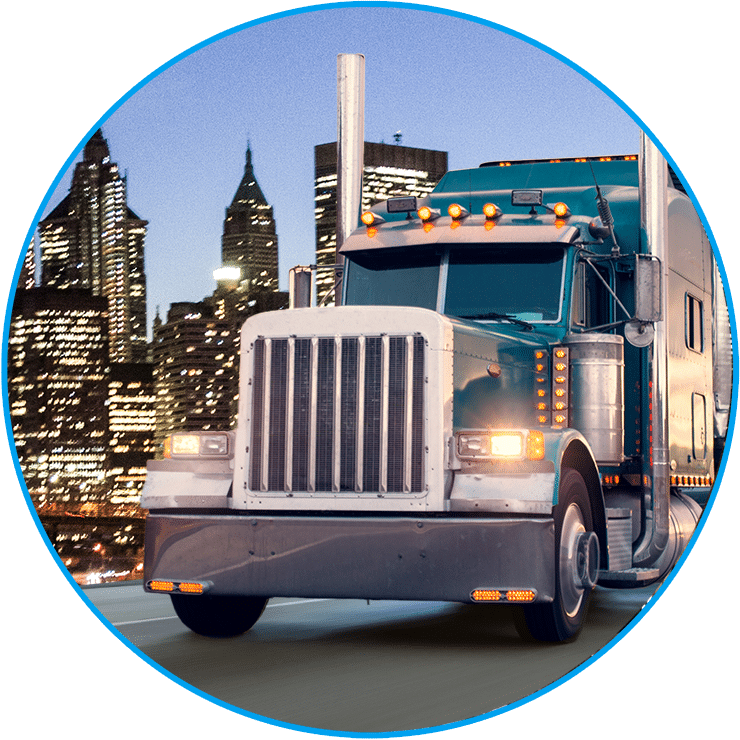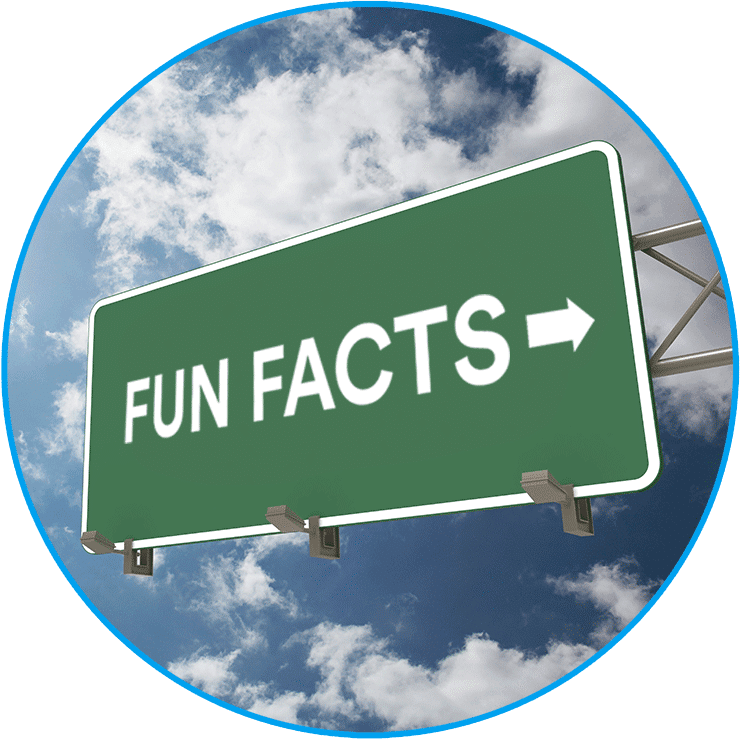 Fun facts about Illinois:
For those with a sweet tooth, Twinkies were invented in Illinois, and the state is home to the first Dairy Queen (1940) and Nabisco factory—the largest bakery in the world.
While the state is known for Chicago (the third largest city in the United States), 80% of Illinois's land area remains farmland.
The Chicago River is one of the only rivers in the world that flows backward. It's dyed green to celebrate St. Patrick's Day every year.
John Hughes filmed many of his iconic movies—The Breakfast Club, Home Alone and Ferris Bueller's Day Off—in various Chicago suburbs.
The Chicago Fire in 1871 destroyed over three-square miles of the city. By the early 1880s, the city was fully rebuilt, with many buildings reconstructed to look exactly as they did before the fire.
Illinois tourist attractions:
Located in the capital of Springfield, the Abraham Lincoln Presidential Library and Museum documents the life of the 16th president and the American Civil War.
Starved Rock State Park along the Illinois River is known for steep canyons, several of which feature waterfalls. Hikers can explore on their own or take a guided tour.
Designed by Frank Lloyd Wright in 1902, the 12,000 square-foot Dana-Thomas House contains the largest collection of original Wright art glass and furniture.
The Anderson Japanese Gardens were designed by famous landscape designer Hoichi Kurisu, with rock formations, waterfalls and ponds, a tea house and guest house built in the sukiya style.
Cahokia Mounds is the largest prehistoric Indian settlement north of Mexico, featuring 120 mounds with the 120-foot Monks Mound at the center.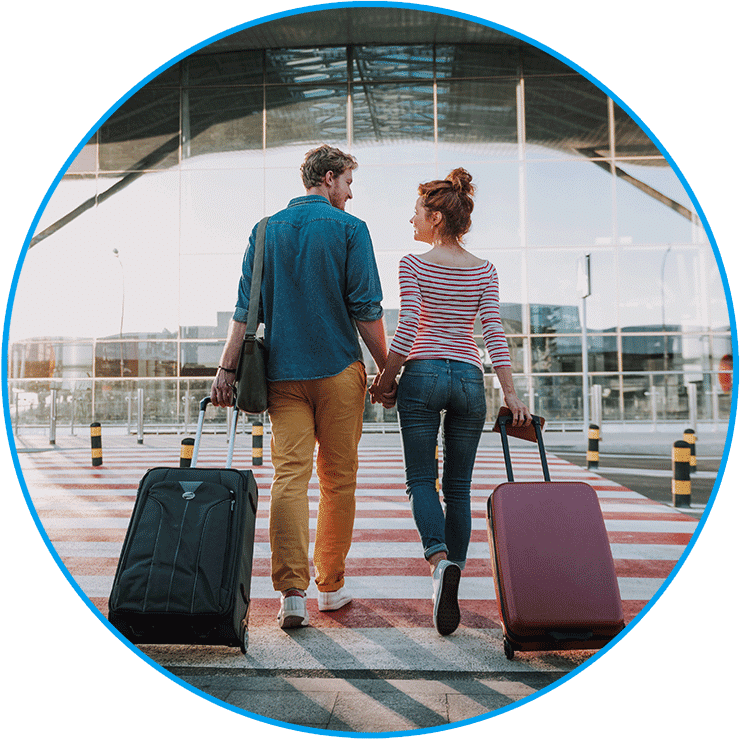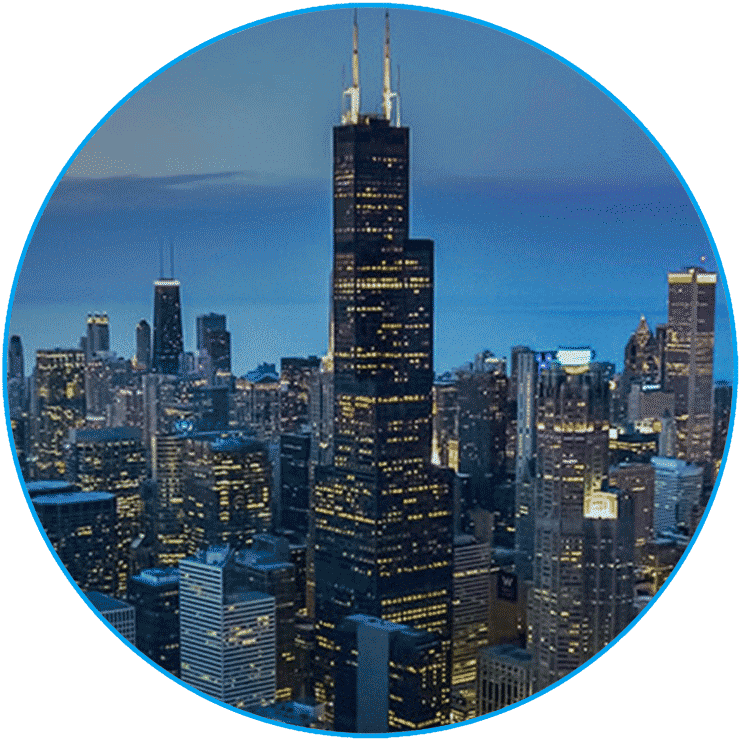 Chicago tourist attractions:
Willis Tower, formerly the Sears Tower, was once the tallest building in the world at 108 stories. Its skydeck gives visitors a view out 50 miles.
On the shore of Lake Michigan, Navy Pier is a 3,300-foot-long pier featuring restaurants, bars, amusement park attractions and sightseeing cruises.
The Art Institute of Chicago is one of the oldest art museums in the world, featuring masterpieces by Degá, Van Gogh, Matisse and many other renowned artists.
For those looking for a casual stroll and perhaps some shopping, the Magnificent Mile boasts hundreds of retailers, architectural buildings, restaurants and hotels.
Cloud Gate, also known as "The Bean," sits at the center of Millennium Park downtown. At 110 tons, the polished steel sculpture is one of the most iconic sights in the city.
Get an instant quote
Nothing makes us happier than satisfied customers!
Learn more about their experiences shipping autos to and from Illinois with Montway Auto Transport.
"Good fast service. Good communication with the driver. Driver was very professional and efficient. Best price as compared to others for a fully enclosed carrier from California to Illinois. It only took 3 days. Highly recommended."
-Allan Montano 12/23/22
"Very reliable, awesome scheduling and time management. Montway transported my vehicle from Illinois to Texas safely and communicated with me every step of the way. I highly recommend their service."
-Shantel Dennis 11/18/22
"Excellent service. Got my car delivered from Illinois to Florida without any problems. Arrived even before hurricane. The driver kept in touch and was very courteous."
-Deborah Healey 10/4/22