Maine Car Shipping
Expert auto transport services to and from Maine
Shipping a car to or from Maine? Read what customers say about using Montway:
I have been shipping cars back and forth from NY to FL for 20 years. My experience with Montway is the best I've ever had. Excellent communication with on-time pickup and delivery. A+ all the way!
December 10, 2022

Montway did an awesome job moving my 1974 VW Super Beetle from Los Angeles to Boise. They were easy to contact, the price was reasonable, and scheduling was simple. My beloved Beetle arrived in perfect condition!
December 10, 2022

I booked Montway to deliver my car from Florida to Maine. I received excellent customer service and an outstanding rate. The driver was courteous and helpful. I would recommend Montway without hesitation.
November 5, 2022

Montway's fantastic customer service was exactly as advertised. Not only did they honor their original price quote, the driver picked the car up on time and delivered it to the exact address requested. Great company!
September 26, 2022

The driver took care of my car, as well as the others on his truck. He treated each car like a delicate gemstone. He was so polite and informative throughout the entire process. I highly recommend using Montway!
October 2, 2022

We've used Montway twice to transfer one of our vehicles and have always had fantastic and friendly service. As a military family who moves around a lot, we will always use Montway.
November 8, 2022

I recently shipped 3 motorcycles through Montway and couldn't be happier with my choice. They were delivered without a scratch, ding or dent. I'll use Montway to transport my bikes again.
October 16, 2022

I experienced excellent door-to-door service. Their representatives were friendly and explained everything well. They shipped my daughter's car across the country. We would definitely use Montway again!
November 3, 2022

Through Montway, I've shipped two cars to Hawaii. Both times were flawless. I was very impressed with the process. I will always use Montway when shipping vehicles in the future.
December 7, 2022

This was my second time using Montway. My car was picked up in an enclosed trailer 2 days after booking and delivered within 4 days. Montway is the only car shipping service I will ever use!
September 24, 2022

Long-distance transport from Delaware to California. The transport was completed in less time than quoted. 100% stress-free experience in transporting our brand-new car across the country.
November 14, 2022

Montway shipped our vehicle from Florida to Illinois. While many of these companies used scare tactics and bad-mouthed each other, Montway gave a firm price and explained everything clearly. Our vehicle arrived on time.
November 8, 2022

I have used Montway several times and I can't say enough about them. Each driver was on time, courteous, and flexible. Dedicated and quality customer service. I've used competitors before and there is no comparison.
October 20, 2022

We experienced true door-to-door service from Texas to Florida. Our driver was very professional, keeping us informed throughout. Our car arrived in excellent condition. We've used Montway several times.
November 23, 2022

I shipped my vehicles 2,000 miles with last-minute notice. Montway did a fantastic job of facilitating quick pickup. They arrived early and in perfect condition! Montway performed way above my expectations!
October 13, 2022

Excellent service from Montway! Their process easy with good communication and consistent updates. Montway quoted a surprisingly low price, which was the final cost. The car arrived in 4 days without a single scratch.
December 14, 2022

Montway is professional with great service and pricing. My truck was picked up in Colorado and delivered to my doorstep in Maine. This is the best experience I've had yet in auto transport.
October 12, 2022

Montway's cost estimate was significantly less than others. Their customer service team was always available when I called. The driver was very polite and delivered our classic truck within 24 hours. A great experience!
October 25, 2022

I don't normally give 5 stars, but these guys are straight-up solid and prompt. Their price is more than fair. In a world where people talk – Montway delivered for us. I appreciate their service.
December 5, 2022

My experience with Montway was amazing. As a military family, we appreciate the military discount and making this an easy part of relocating! I definitely recommend Montway.
September 27, 2022

With concerns of shipping a classic car over 1,500 miles, Montway's communication was top-notch. The driver respected and protected the cargo. They were quick, easy, and reasonable, moving my car in just two days.
October 1, 2022

Montway shipped two cars across the country for our move. They responded to our questions promptly and their prices were the lowest. The cars arrived in excellent condition. We would use them again!
December 11, 2022

I booked Montway to transport a new car to my granddaughter for Christmas. They picked it up on time as promised and took it to her driveway in perfect condition. They did an excellent job!
December 8, 2022

Montway provided excellent customer service and was worth every penny. If you want to protect your vehicle from the elements, go with an enclosed transport.
October 25, 2022

Second time shipping with Montway Auto Transport. Communication was spot on and the car arrived in 3 days from Florida to Kansas. I will continue to use this amazing service!
November 16, 2022

I used Montway to transport a vehicle from MI to PA. I booked Friday and my vehicle was delivered to my driveway Monday morning. 100% satisfied and grateful for the experience. I would recommend Montway to all!
September 24, 2022

This is the second time this year I've used Montway to ship a vehicle long distance. I have been fully satisfied with all aspects of their service from getting a quote to their on-time delivery.
December 1, 2022

Montway's service was outstanding and their price was competitive. My car was picked up in Buffalo, NY and delivered just 3 days later in Colorado. Big thumbs up!
December 11, 2022

Montway shipped my motorcycle with ease. They have a straightforward process and I could communicate with them anytime. It was the right choice for me. Great company!
October 1, 2022

Montway is a great company if you are moving your vehicle across the United States. The crew loaded it on the truck in 15 minutes. In 72 hours it was delivered and parked in my driveway.
November 5, 2022

900000
+
Satisfied customers
Trusted by the world's largest brands








Car Shipping in Maine
Transporting your vehicle to or from Maine
Maine is the northeasternmost state in the U.S. Its rocky coast, millions of acres of forest and many lakes ripe for fishing, send nature lovers and maritime enthusiasts north almost any time of year. Known for its seafood, lighthouses and overall coastal charm, it comes as no surprise that over 25 million people visit the state every summer.
It's not just the warm weather activities that appeal to tourists; Maine has a rich history that has to be both seen and experienced. If you find yourself gravitating north for a permanent move or seasonal vacation, it will help to have your car to get yourself up and down the coast to see, taste and feel all Maine has to offer.
Get an instant quote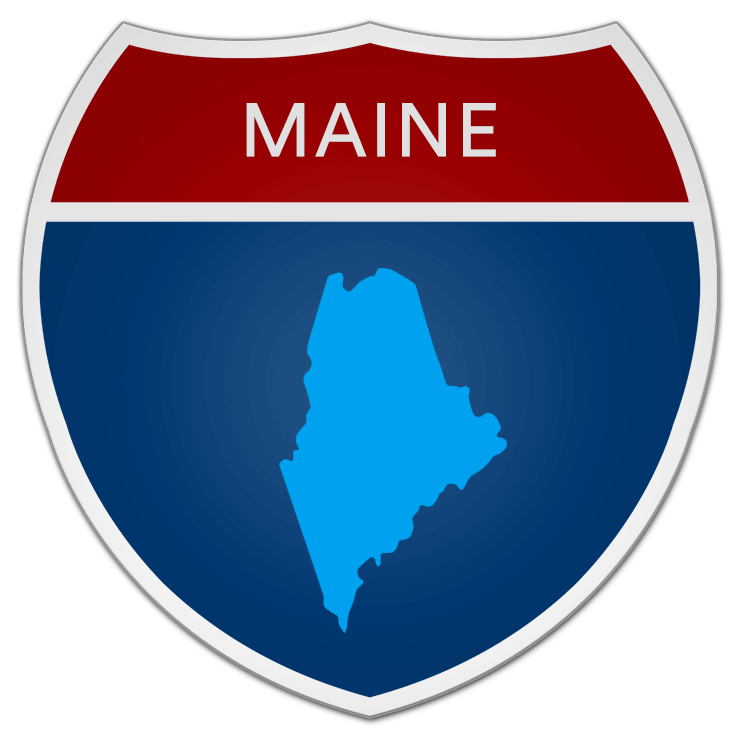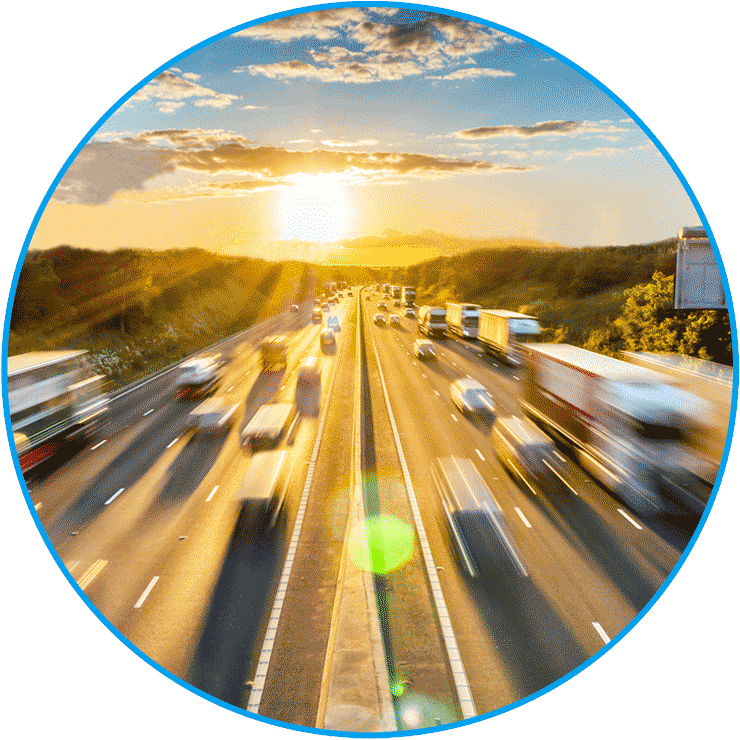 What to consider when shipping a car in Maine
Rather than driving through the rough, rocky terrain of Maine yourself, you may want to look into professional vehicle shipping services. Auto transport takes the stress out of moving and traveling and ensures that your car, truck, recreational vehicle or snowmobile gets to its destination on time and safely.
What factors do you need to keep in mind when planning your Maine auto transport? When comparing pricing for different carriers, be prepared with your vehicle type and year, pickup and delivery locations and the desired shipping time frame. All of these elements will determine appropriate shipping accommodations and final cost. Here are insights to help you find a quality, professional transport service.
Choose the best Maine auto transport company
An alternative option to contracting directly with a carrier to arrange your vehicle shipment is to work with an auto transport broker. Brokers have the knowledge, expertise and network of qualified carriers to save you time and money and relieve you of the frustration of researching multiple carriers and comparing options on your own.
Looking for a leading broker to help you with car shipping in Maine? For over 15 years, Montway Auto Transport has been assisting people ship their vehicles by securing a carrier that best matches their needs and budget. Get an instant Maine car shipping quote online or call (888) 666-8929 to speak to a customer service representative.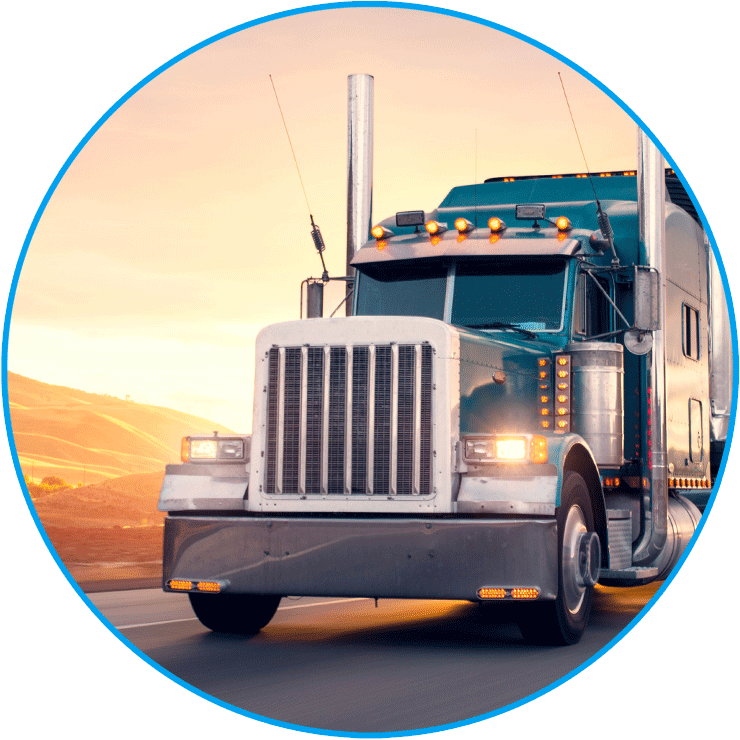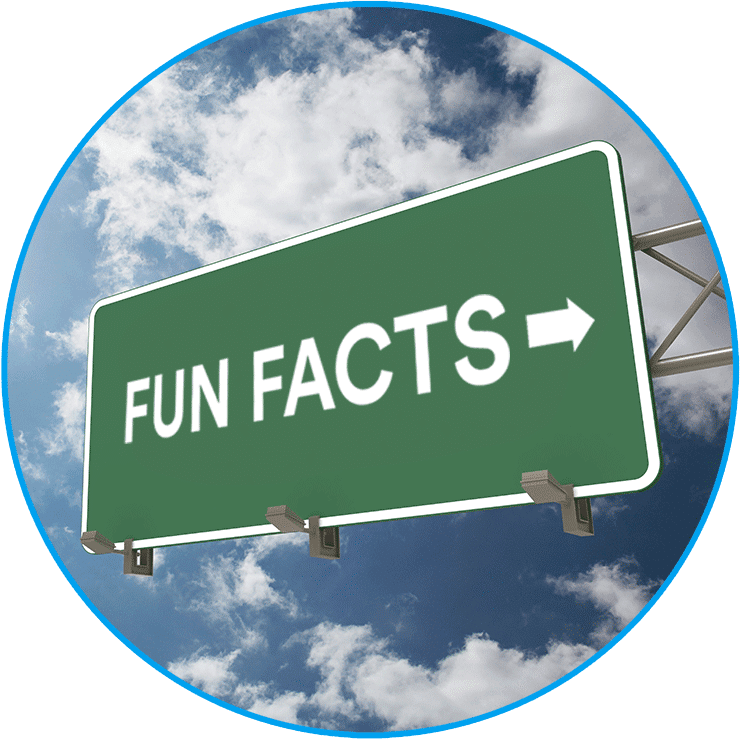 Fun facts about Maine:
Maine has 3,166 off-shore islands, only 1,200 of which are over an acre in area.
Maine harvests the largest majority of the lobster in the United States. The University of Maine even has its own Lobster Institute, dedicated to the study of these sea animals.
Geographically, Maine is larger than the other five New England states combined.
Maine is the only U.S. state with one syllable, but no one knows how exactly it got its name. Some believe it was sailors' shorthand for "mainland."
Developed as a result of over-farming, Maine has its own desert, spanning 40 acres outside the town of Freeport.
Maine tourist attractions:
Acadia National Park houses the tallest mountain on the Atlantic coast, Cadillac Mountain. Inhabitants of the area go back more than 10,000 years.
Over 150 family-owned oyster farms comprise the Maine Oyster Trail, each with its own unique experience.
Founded in 1962, the Maine Maritime Museum features indoor and outdoor exhibits, including the interactive lighthouse experience, which gives a sensation of standing on top of a lighthouse.
On the topic of lighthouses, the Portland Head Lighthouse in Cape Elizabeth is the oldest lighthouse in Maine, completed in 1791.
Just across the river in Canada is Roosevelt Campobello International Park, Franklin and Eleanor Roosevelt's summer home, staffed and funded by people of both Canada and the United States.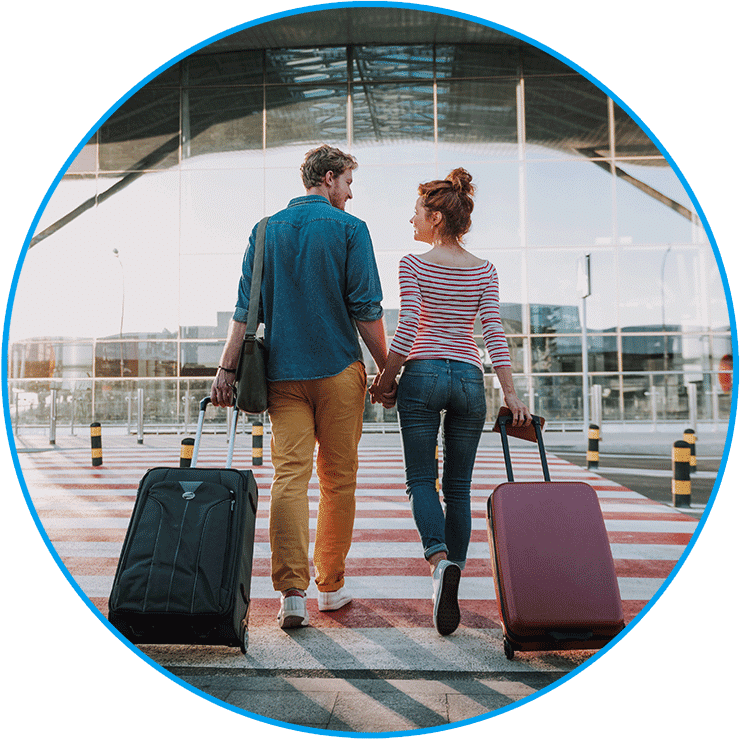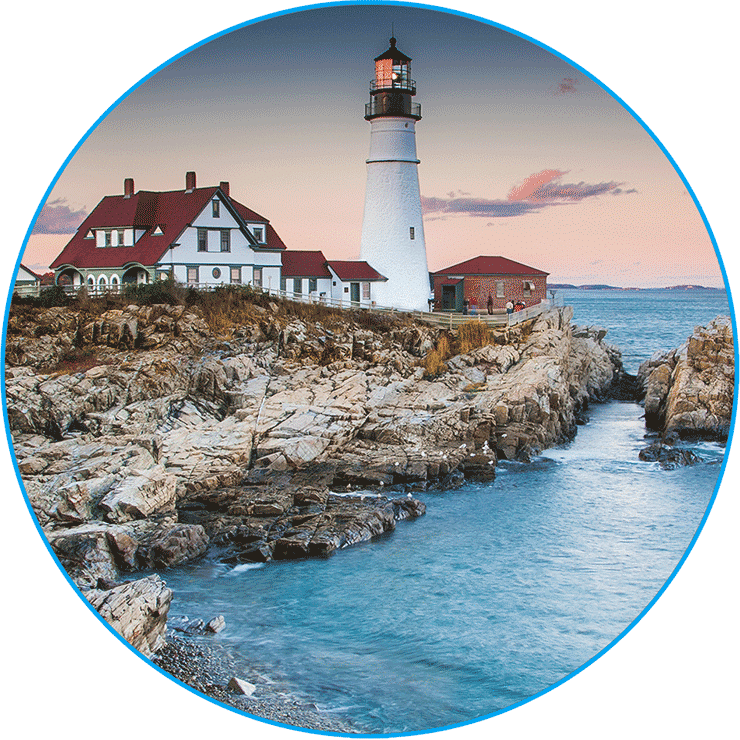 Best beaches in Maine:
Old Orchard Beach spans seven miles of sand, full of family fun like mini golf, parasailing and biking.
The charming town of Kennebunkport is nestled along the ocean and the Kennebunkport River, offering a variety of activities from whale watching to antique shopping.
Ogunquit is a sandy peninsula with grassy dunes. Along with opportunities for sun and relaxation, the town hosts a museum of American art and a musical theater.
A small and rocky island, Monhegan Island welcomes visitors to stay in one of its cozy inns or cottages, dine along the wharf and shop for handmade jewelry and other trinkets.
Wells Beach brings a traditional East Coast beach experience, featuring tidal pools and marshes, seagrass and a jetty popular with those who like to fish.
Get an instant quote
Nothing makes us happier than satisfied customers!
Learn more about their experiences shipping autos to and from Maine with Montway Auto Transport.
"I contracted Montway to deliver my vehicle from Florida to Maine. Excellent customer service from their staff. Outstanding rate. They delivered exactly when they said and kept me informed on whereabouts of my car. The driver was courteous and helpful. I would recommend Montway without hesitation."
-Jack Humeniuk 11/5/22
"Really professional, which really matters. They picked up my truck in Colorado and dropped it at my doorstep in Maine 4 days later. Great service and price. This is my fourth time having a vehicle hauled long distance and is my best experience yet. Highly recommended. Thanks guys."
-Bruce Anderson 10/12/22
"I needed to get a car from Florida to Maine. I called Montway and within 2 weeks they had it delivered. They realized that the large truck could not get down my road so we arranged to grab it down the street in a large parking lot. It was a cold day so the gentleman driving the truck took my car off and warmed it up for me so when I came to grab it the car was toasty. I would definitely recommend this company. Plus they were extremely affordable."
-Brooke C. 2/5/22