Virginia Car Shipping
Expert auto transport services to and from Virginia
Shipping a car to or from Virginia? Read what customers say about using Montway:
I have been shipping cars back and forth from NY to FL for 20 years. My experience with Montway is the best I've ever had. Excellent communication with on-time pickup and delivery. A+ all the way!
December 10, 2022

Montway did an awesome job moving my 1974 VW Super Beetle from Los Angeles to Boise. They were easy to contact, the price was reasonable, and scheduling was simple. My beloved Beetle arrived in perfect condition!
December 10, 2022

I booked Montway to deliver my car from Florida to Maine. I received excellent customer service and an outstanding rate. The driver was courteous and helpful. I would recommend Montway without hesitation.
November 5, 2022

Montway's fantastic customer service was exactly as advertised. Not only did they honor their original price quote, the driver picked the car up on time and delivered it to the exact address requested. Great company!
September 26, 2022

The driver took care of my car, as well as the others on his truck. He treated each car like a delicate gemstone. He was so polite and informative throughout the entire process. I highly recommend using Montway!
October 2, 2022

We've used Montway twice to transfer one of our vehicles and have always had fantastic and friendly service. As a military family who moves around a lot, we will always use Montway.
November 8, 2022

I recently shipped 3 motorcycles through Montway and couldn't be happier with my choice. They were delivered without a scratch, ding or dent. I'll use Montway to transport my bikes again.
October 16, 2022

I experienced excellent door-to-door service. Their representatives were friendly and explained everything well. They shipped my daughter's car across the country. We would definitely use Montway again!
November 3, 2022

Through Montway, I've shipped two cars to Hawaii. Both times were flawless. I was very impressed with the process. I will always use Montway when shipping vehicles in the future.
December 7, 2022

This was my second time using Montway. My car was picked up in an enclosed trailer 2 days after booking and delivered within 4 days. Montway is the only car shipping service I will ever use!
September 24, 2022

Long-distance transport from Delaware to California. The transport was completed in less time than quoted. 100% stress-free experience in transporting our brand-new car across the country.
November 14, 2022

Montway shipped our vehicle from Florida to Illinois. While many of these companies used scare tactics and bad-mouthed each other, Montway gave a firm price and explained everything clearly. Our vehicle arrived on time.
November 8, 2022

I have used Montway several times and I can't say enough about them. Each driver was on time, courteous, and flexible. Dedicated and quality customer service. I've used competitors before and there is no comparison.
October 20, 2022

We experienced true door-to-door service from Texas to Florida. Our driver was very professional, keeping us informed throughout. Our car arrived in excellent condition. We've used Montway several times.
November 23, 2022

I shipped my vehicles 2,000 miles with last-minute notice. Montway did a fantastic job of facilitating quick pickup. They arrived early and in perfect condition! Montway performed way above my expectations!
October 13, 2022

Excellent service from Montway! Their process easy with good communication and consistent updates. Montway quoted a surprisingly low price, which was the final cost. The car arrived in 4 days without a single scratch.
December 14, 2022

Montway is professional with great service and pricing. My truck was picked up in Colorado and delivered to my doorstep in Maine. This is the best experience I've had yet in auto transport.
October 12, 2022

Montway's cost estimate was significantly less than others. Their customer service team was always available when I called. The driver was very polite and delivered our classic truck within 24 hours. A great experience!
October 25, 2022

I don't normally give 5 stars, but these guys are straight-up solid and prompt. Their price is more than fair. In a world where people talk – Montway delivered for us. I appreciate their service.
December 5, 2022

My experience with Montway was amazing. As a military family, we appreciate the military discount and making this an easy part of relocating! I definitely recommend Montway.
September 27, 2022

With concerns of shipping a classic car over 1,500 miles, Montway's communication was top-notch. The driver respected and protected the cargo. They were quick, easy, and reasonable, moving my car in just two days.
October 1, 2022

Montway shipped two cars across the country for our move. They responded to our questions promptly and their prices were the lowest. The cars arrived in excellent condition. We would use them again!
December 11, 2022

I booked Montway to transport a new car to my granddaughter for Christmas. They picked it up on time as promised and took it to her driveway in perfect condition. They did an excellent job!
December 8, 2022

Montway provided excellent customer service and was worth every penny. If you want to protect your vehicle from the elements, go with an enclosed transport.
October 25, 2022

Second time shipping with Montway Auto Transport. Communication was spot on and the car arrived in 3 days from Florida to Kansas. I will continue to use this amazing service!
November 16, 2022

I used Montway to transport a vehicle from MI to PA. I booked Friday and my vehicle was delivered to my driveway Monday morning. 100% satisfied and grateful for the experience. I would recommend Montway to all!
September 24, 2022

This is the second time this year I've used Montway to ship a vehicle long distance. I have been fully satisfied with all aspects of their service from getting a quote to their on-time delivery.
December 1, 2022

Montway's service was outstanding and their price was competitive. My car was picked up in Buffalo, NY and delivered just 3 days later in Colorado. Big thumbs up!
December 11, 2022

Montway shipped my motorcycle with ease. They have a straightforward process and I could communicate with them anytime. It was the right choice for me. Great company!
October 1, 2022

Montway is a great company if you are moving your vehicle across the United States. The crew loaded it on the truck in 15 minutes. In 72 hours it was delivered and parked in my driveway.
November 5, 2022

900000
+
Satisfied customers
Trusted by the world's largest brands








Car shipping in Virginia
Transporting your vehicle to or from Virginia
Virginia is home to many famous beaches that must be seen and experienced. While some enjoy lying in the sand catching rays or splashing in the waters of the Atlantic Ocean, others prefer to drive up the coast with the wind in their hair. And what better way to take a joy ride than in a classic vehicle?
If you live in Virginia and purchase a classic car from another state, you need to figure out how to get the vehicle to your home. Vintage or classic vehicles are by definition older and enthusiasts know to avoid putting too many miles on them—meaning you won't want to drive it across the country just to get it home. Classic car shipping is an ideal way to safely move your new prized possession.
Get an instant quote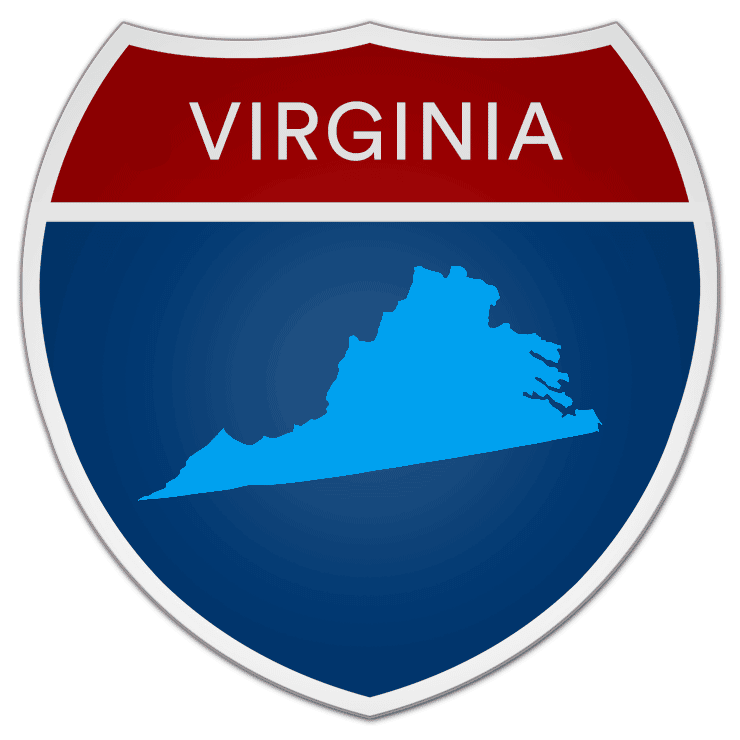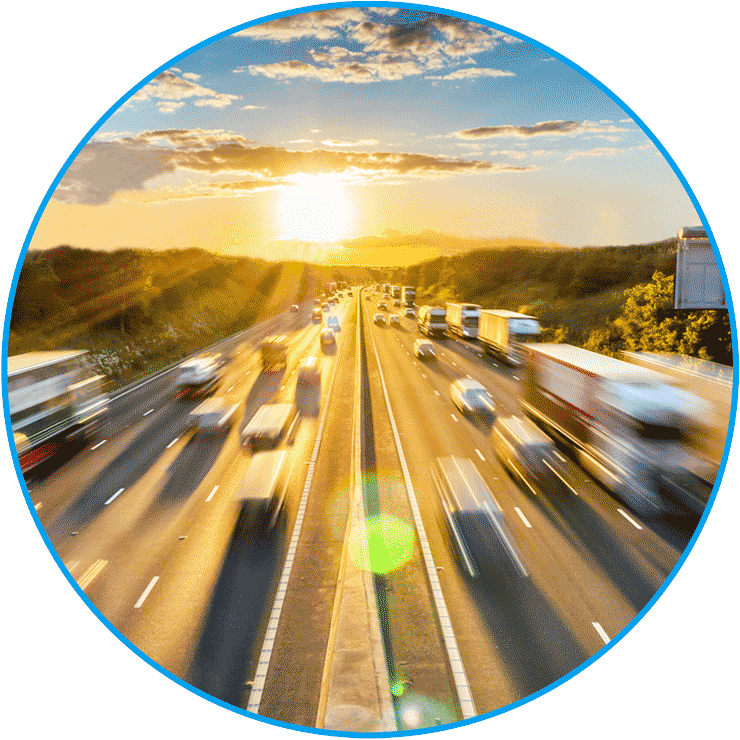 What to consider when shipping a car in Virginia
Shipping a classic car requires special considerations beyond those of shipping a standard vehicle. After all, you want to protect your older, more fragile car from weather and the elements while in transit. This is why enclosed transport is generally recommended. An enclosed truck or trailer provides peace of mind knowing the vehicle has more protection against the elements.
Open transport works well for everyday vehicles such as sedans, SUVs or trucks. This type of transport is also the most common and cost-effective. Over 90% of truckers operate an open auto transport trailer, which means there are more carriers available to pick up your car. To understand your options and figure out what vehicle shipping method best accommodates your needs, work with a professional auto transport company.
Choose the best Virginia auto transport company
Unless you're an expert in auto shipping and have all the equipment of an experienced carrier, we recommend teaming up with professionals. Since your car is probably one of your most valuable possessions, you shouldn't just work with any company. Find one who has extensive experience and a high number of positive online customer reviews to prove they have a solid reputation in auto transportation.
Montway Auto Transport is a fully licensed and bonded broker with over 15 years of experience and 64,000+ online customer reviews. With an A+ rating from the BBB and an average 4.7-star rating, you know that you—and your treasured vehicle—are in good hands. Get an instant quote or call us at (888) 666-8929 to speak with a member of our service staff.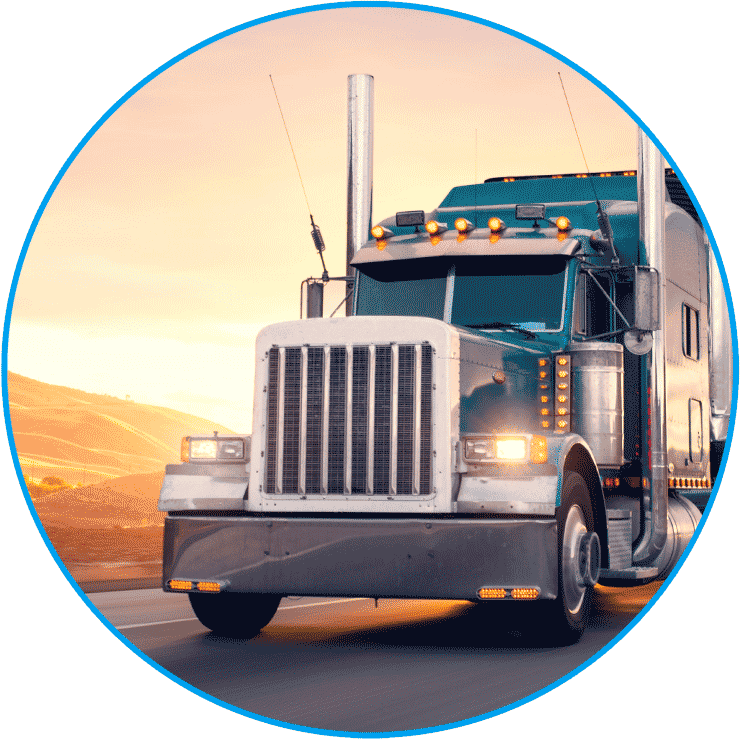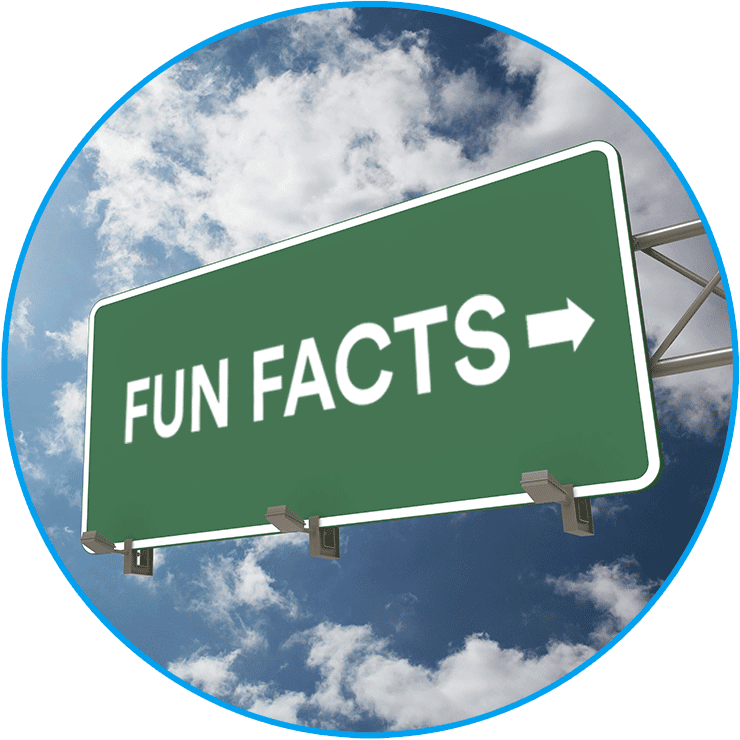 Fun facts about Virginia:
Also called the "Mother of Presidents," Virginia is the birthplace of eight United States presidents—more than any other state.

At 34 acres, The Pentagon, in the city of Arlington, has three times the floor space of the Empire State Building and is known as the largest office building in the world.

One of the most well-known state slogans is "Virginia is for Lovers," created in 1968 as an ad campaign. The campaign generated an estimated $800 million in tourism.

The Mountain Lake Lodge in Pembroke is where some scenes of the 1987 movie

Dirty Dancing

were filmed. Today it still offers "Dirty Dancing weekends" with themed activities. 

The annual Pony Swim at Chincoteague is a unique event where spectators watch local "Saltwater Cowboys" herd wild ponies across the Assateague channel.
Virginia tourist attractions:
Extending along the Blue Ridge Mountains, Shenandoah National Park has over 500 miles of trails, along with the famed Skyline Drive that runs the length of the park.

Colonial Williamsburg is the largest outdoor living museum in the country that offers authentic 18th-century experiences. Take a carriage ride, explore folk art collections and view the "Fifes & Drums" march.

Arlington National Cemetery is a famous military cemetery, where President John F. Kennedy's grave and the Tomb of the Unknown Soldier are the most visited sites.

Busch Gardens theme and water park has fun for all ages, including roller coasters and rides, live events and water playgrounds.

The mission of the Virginia Museum of Fine Arts is to collect, preserve, exhibit and interpret art to enrich the lives of Virginia locals and visitors.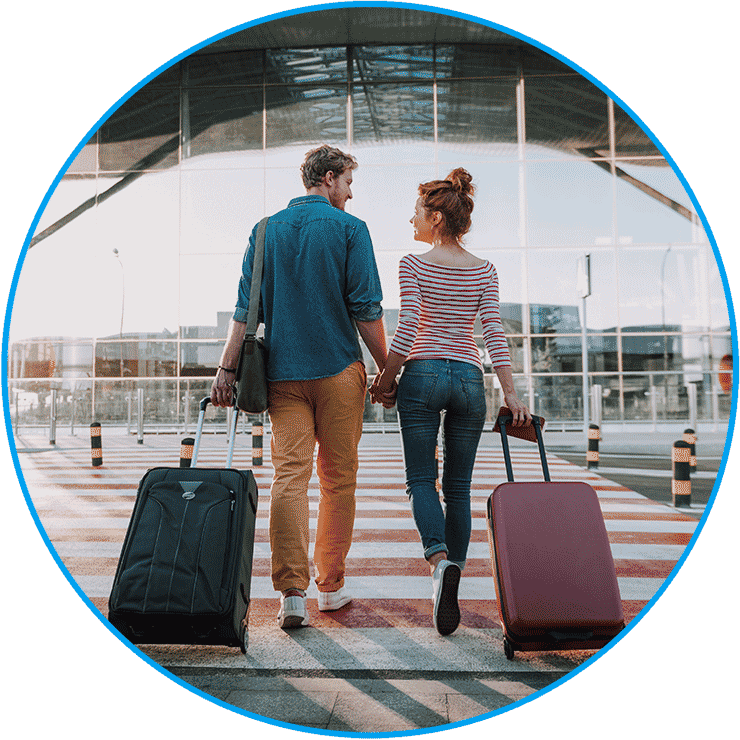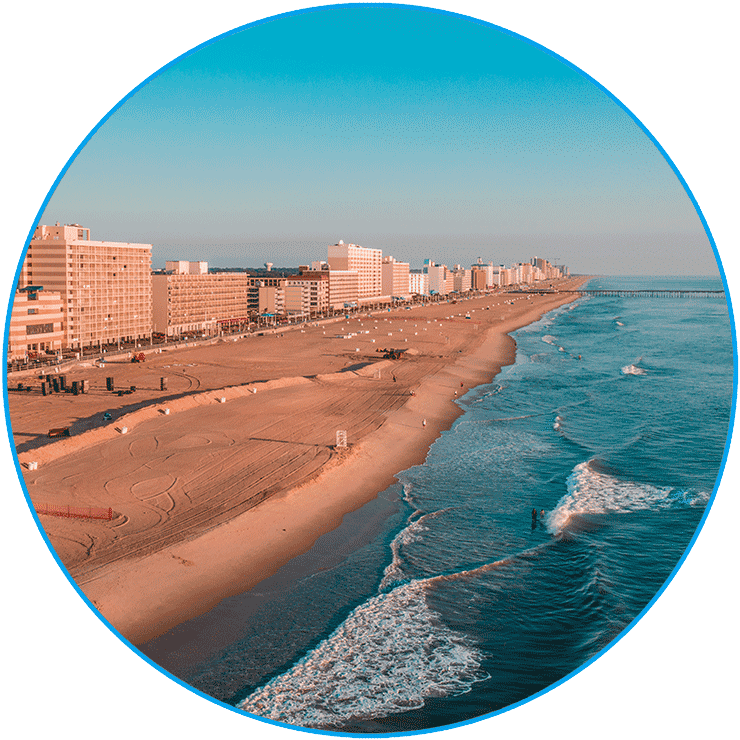 Best beaches in Virginia
Virginia Beach is the largest city in the state, with a three-mile boardwalk, museums, historical sites, entertainment, exciting nightlife and an up-and-coming food scene.

Assateague Island is a barrier island, home to herds of wild ponies as well as sandy beaches, maritime forests and outdoor recreation.

Cape Charles is a small, friendly town with calm and shallow waters. Indulge while getting exercise by paddling to Chatham Vineyards for a wine tour and tasting!

Rent jet skis, kayaks or paddle boards at Buckroe Beach in Hampton or grill out and have a picnic while the kids play on the nautical-themed playground.

River and beach town Colonial Beach is known as the "playground of the Potomac," where its Ferry Landing District offers waterfront dining, souvenir shops and prime fishing spots.
Get an instant quote
Nothing makes us happier than satisfied customers!
Learn more about their experiences shipping autos to and from Virginia with Montway Auto Transport.
Learn more about their experiences shipping autos to and from Virginia with Montway Auto Transport:
"Montway impressed me with their upfront honesty. The price they quoted was the exact price I paid to have my vehicle transported from West Virginia to northern Vermont. No extra or hidden fees. I would encourage anyone needing to transport a vehicle to seriously consider Montway!!"
Michael E. Colier 8/26/22
"I'm am active duty military and moved from Virginia to Texas. After calling 5 other companies, Montway was the only one that was able to get my Tahoe transported. The driver was completely professional and kept me updated on the estimated arrival of my truck. I would definitely recommend Montway to transport your vehicle safely and in a timely manner." 
-Angxl 2/4//22
"Exceptional company. Fast, easy and efficient door to door service! My car was picked up from Las Vegas on Nov. 19th and at my door in Virginia on Nov. 22. The price for this exceptional service can't be beat! I highly recommend Montway Auto Transport."
-Cheryl Tinson 12/12/21