Hey, we have an announcement to make:
Here at Montway Auto Transport we know that the classic cars, muscle cars, and other antique automobiles and collectible vehicles bought and sold on a classified's site like ClassicCars dot com are so much more than utilitarian driving machines to their current and future owners. They're pieces of automotive history, windows back to bygone eras and prized possessions that have often been repaired and resorted so lovingly and painstakingly that the average car or truck owner would faint (or worse) at the mere thought of all the years of elbow grease that have been put into them. So we understand how important it is to classic car dealers and vintage vehicle collectors to book an auto transporter who specializes in the specific requirements of shipping classic and antique cars. That's why we created an Instant Classic Car Shipping Rate Widget designed to match the needs of the vintage auto buyers, dealers n private sellers of ClassicCars.com.
Learn more about our classic car transport services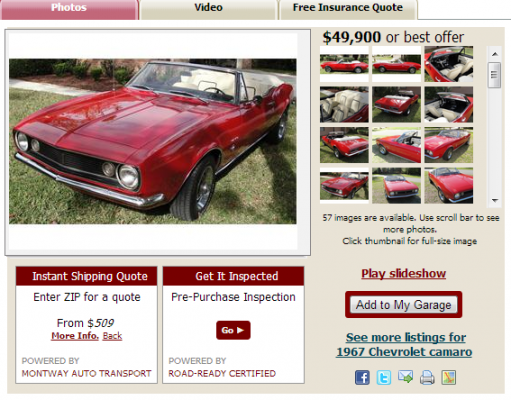 Our calculator widget is so simple and so easy to use, that even less than Web-savvy among you will be able to get the shipping rate quote you need out of it with ease. It works like this: Once you've spotted a vintage automobile you're interested in on ClassicCars dot com, you'll see an "Instant Shipping Quote" widget on the lower left just beneath that car's main image. You'll only need to drop your zip code into it to get an auto transport cost estimate. And from there you can click "More Info" to get to a car-specific rate and booking page here at Montway.com. Where you'll be able to choose between rates for having your latest classic car find delivered to your door via an open auto transport or an enclosed car carrier. You'll even be able to book and schedule your car shipment online along with your purchase. It's really that simple. And as always cargo Insurance coverage will be included in the quoted rate and no personal info will be required to get it.
We hope you use and more importantly enjoy it. Happy classic car hunting!
Don't hesitate to get your free auto transport quote