Yelp has cultivated an amazing community of people who want to be heard. But if their reviews are so trustworthy, why is Yelp under such heavy criticism? 
Our team looked through thousands of public reviews on Yelp to see if these complaints were valid. Take a look.
Why is Yelp being criticized?
A number of businesses have begun speaking out about Yelp's mysterious review filter, claiming the company is purposely hiding positive and helpful reviews.  Many auto shipping companies are being penalized with Yelp's current filtering process, which gives preferential filtering of auto shipping reviews to paying advertisers on Yelp's platform.
On most Yelp pages, you'll find a section located near the bottom titled "other reviews that are not currently recommended."  When we clicked on this, we found over 2,000 more reviews not factored into our star rating. That's almost 90% of our reviews not being accounted for (75% of which had 5-star ratings).
We've been in business for 14 years.  We have an A+ rating from the Better Business Bureau (BBB) and have earned thousands of positive Montway auto transport reviews.  As of the writing of this article, here's how we far on other review platforms: 
If our ratings are so high on every other website,  why does Montway's Yelp rating say the opposite? Great question.
Facebook 
Facebook determines a rating based on multiple sources — such as the reviews and recommendations people share about a Facebook business page. Only pages that allow recommendations may show a rating, and if a page hasn't received enough recommendations, Facebook may not give them one.
Facebook only allows you to report written reviews. However, they do not hide positive reviews.
Google 
Google adds stars to a company's profile when the business receives five or more reviews, or if the business becomes verified through Google My Business (GMB). If a review doesn't meet Google's content policy, they might decide to remove it. There's absolutely no way to have Google Reviews removed (besides instances of defamation). 
Like Facebook, Google also doesn't hide positive reviews.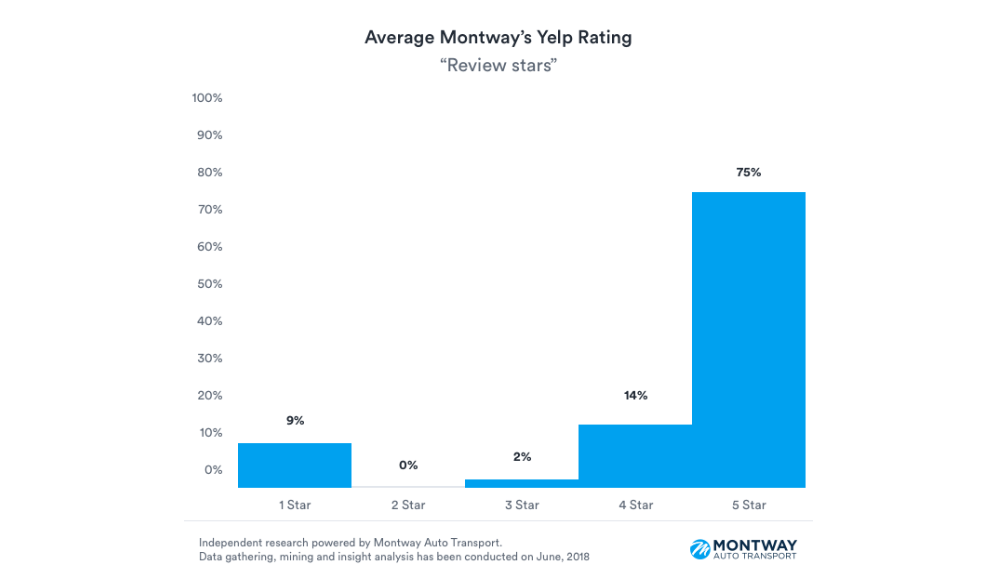 Why does Yelp hide positive Montway Yelp ratings?
In an effort to provide an accurate overview of customer sentiment, Yelp developed an algorithm to filter out low quality, deceptive or possibly harmful reviews.  
They employ the use of an automated recommendation software to help remove potential spam. But if Facebook and Google (arguably the two most prominent internet-based companies in the world) don't utilize automated review software — why does Yelp? 
Another great question. 
Yelp keeps its algorithm on the down-low, so we had to apply our own approach by reading through all of Montway's auto transport reviews. This included ones hidden in the "not recommended" section.
Below, we broke down some of the things we noticed.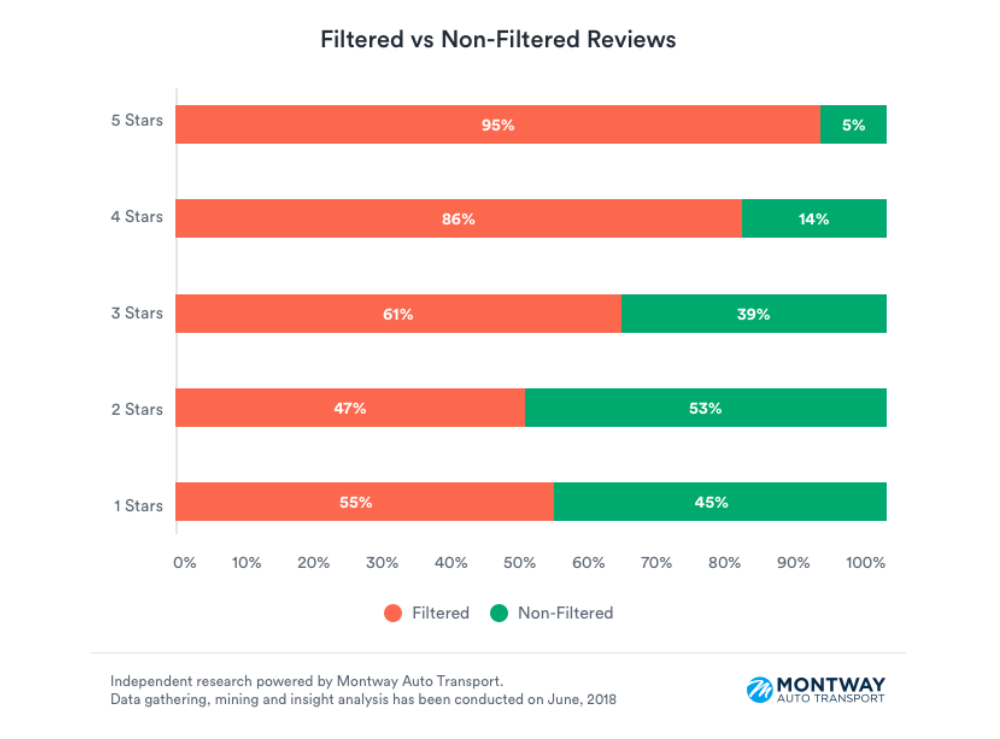 Factor #1: You don't have friends
In the graph above, you can see a breakdown of what percentage of Montway reviews are NOT RECOMMENDED (orange/Filtered) vs RECOMMENDED (green/Non-Filtered). 
It appears that Yelp seems to favor users who have lots of other Yelp friends (and how frequently you interact with those other Yelp friends):
Over 80% of

filtered

reviews had 5 friends or fewer
Just over 1/2 of non-filtered reviews had 5 friends or fewer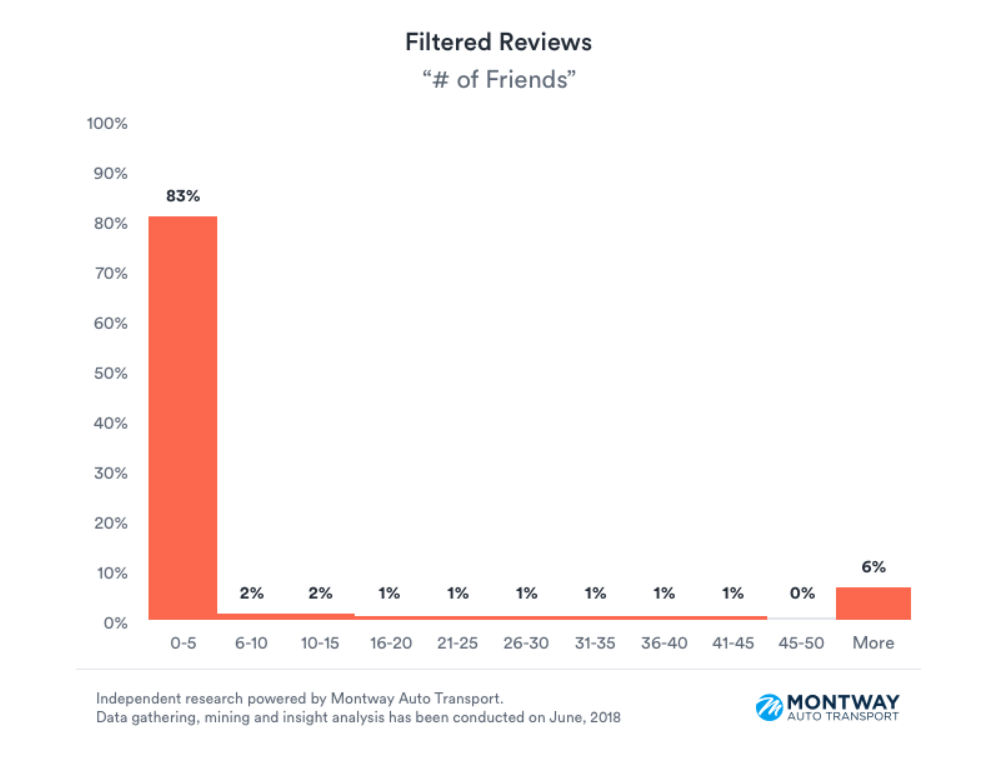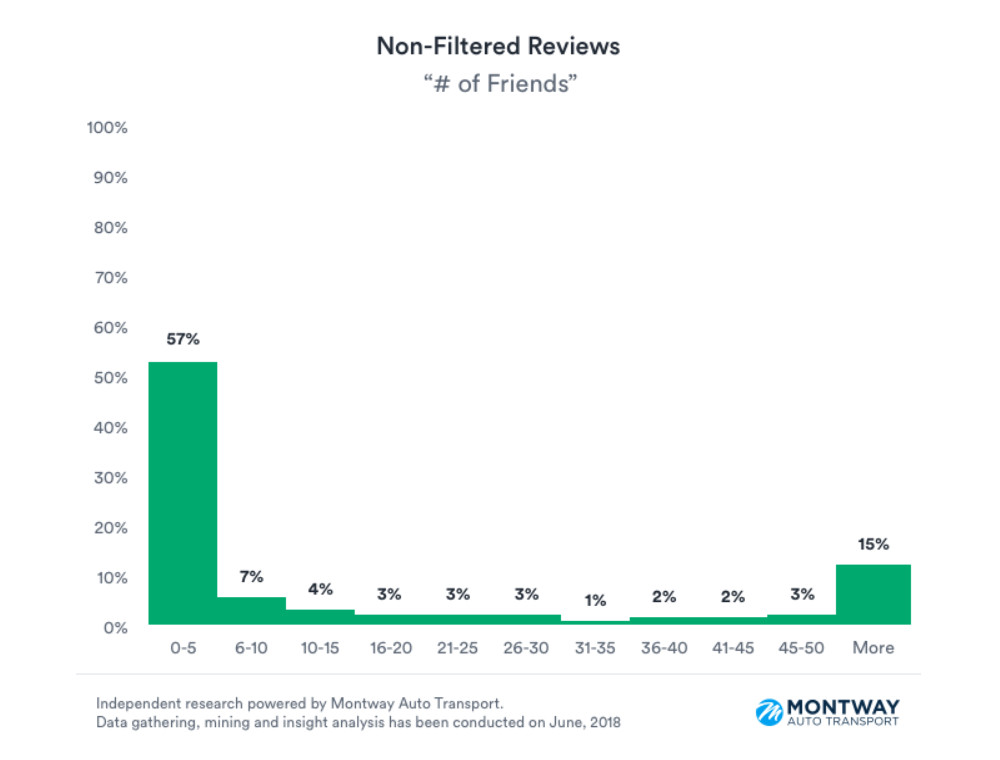 Factor #2: You don't have reviews
Shipping your car across the country is not an everyday demand. As a matter of fact, most people will only ship a car once in their life.
Why does this present an issue? 
Look at it this way…
Let's say Sam has left 73 reviews on Yelp, all about cupcake shops. One day, the windshield on Sam's car cracks. When the bill comes, it's a lot more than cupcakes. Sam is enraged!
So, despite having no idea what the fair price for replacing a windshield is, Sam leaves review no. 74 on Yelp (and this one isn't so sweet).
On the flipside, meet Average Joe. This retiree was an auto mechanic for four decades and could fix pretty much anything if it had four wheels. One day, Average Joe took his car into the very same shop that Sam went to. Knowing precisely what it costs to replace a windshield — and how long it should take — Joe was very satisfied!
Joe sets up a Yelp account and leaves his first-ever review.
Which review is Yelp going to promote? Which will they hide? Based on our study, it seems that Yelp is likely to recommend Sam's review and not recommend Average Joe's.
And just like that, you're taking car advice from a cupcake expert.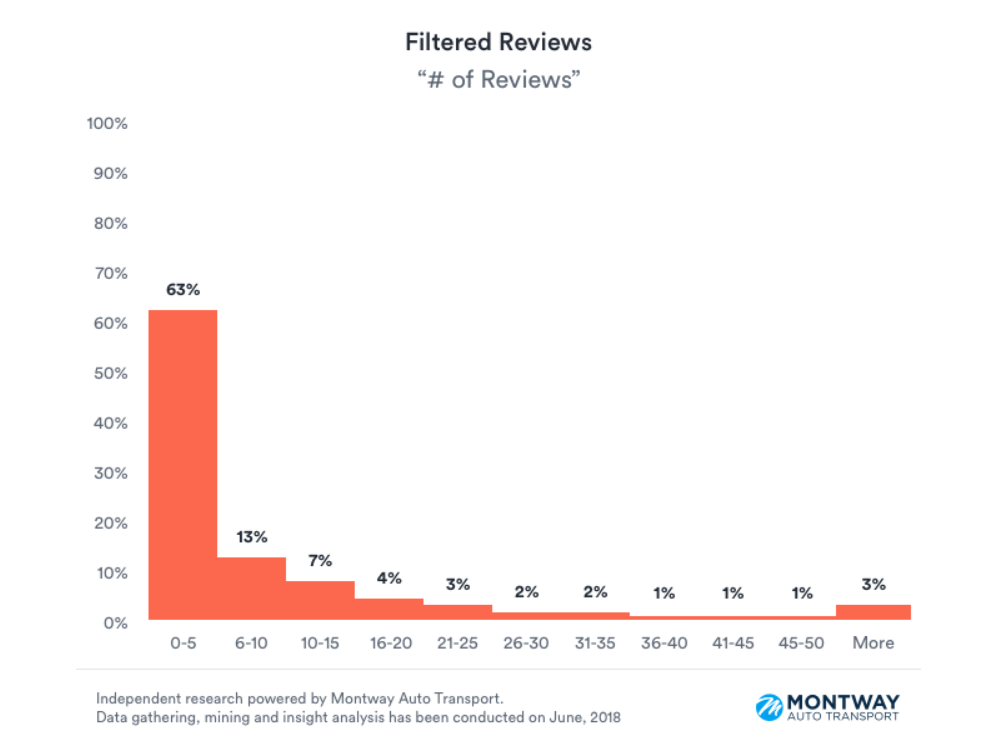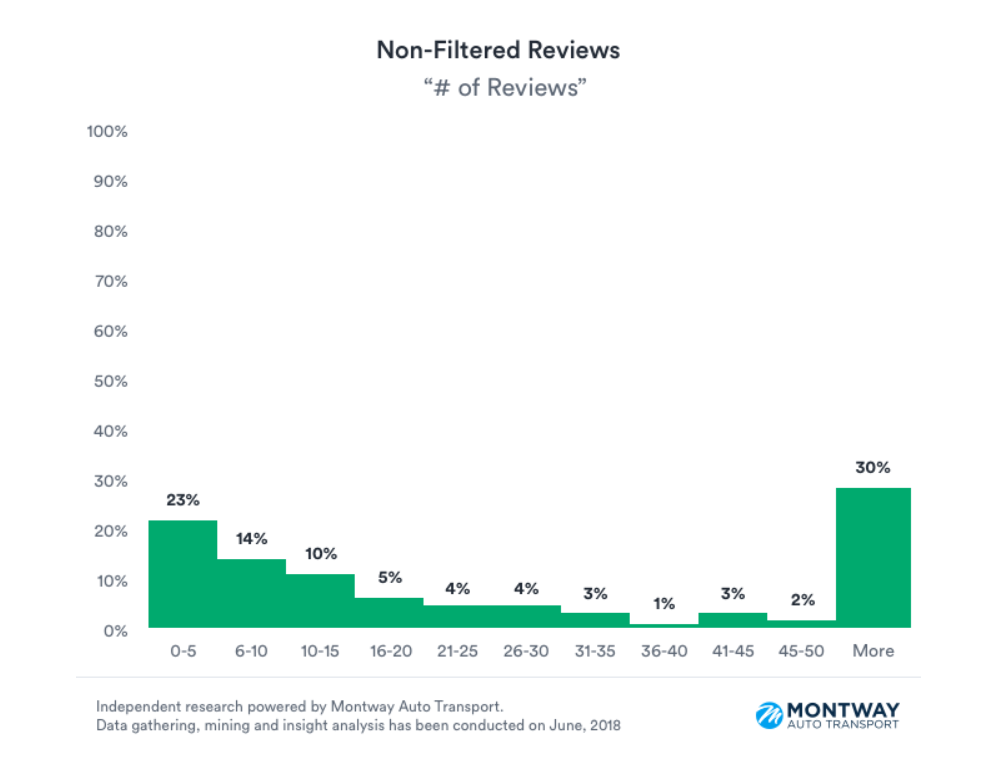 Factor #3: You don't have long reviews 
Lastly, it appears that the length of Yelp reviews was also a major determining factor. 
Providing detailed and balanced feedback seems ideal when leaving a review and can help to avoid it from being censored by Yelp's review filter. But is Yelp really expecting each person to write a two-page essay?
Filtered reviews are shorter in nature, with 65% containing 400 words or fewer. The average length for non-filtered reviews was quite the opposite:
Only 8% of non-filtered reviews contained 200 words or fewer
Only 28% of non-filtered reviews contained 400 words or fewer

Posts of

1,000 words or more

accounted for 28% of non-filtered reviews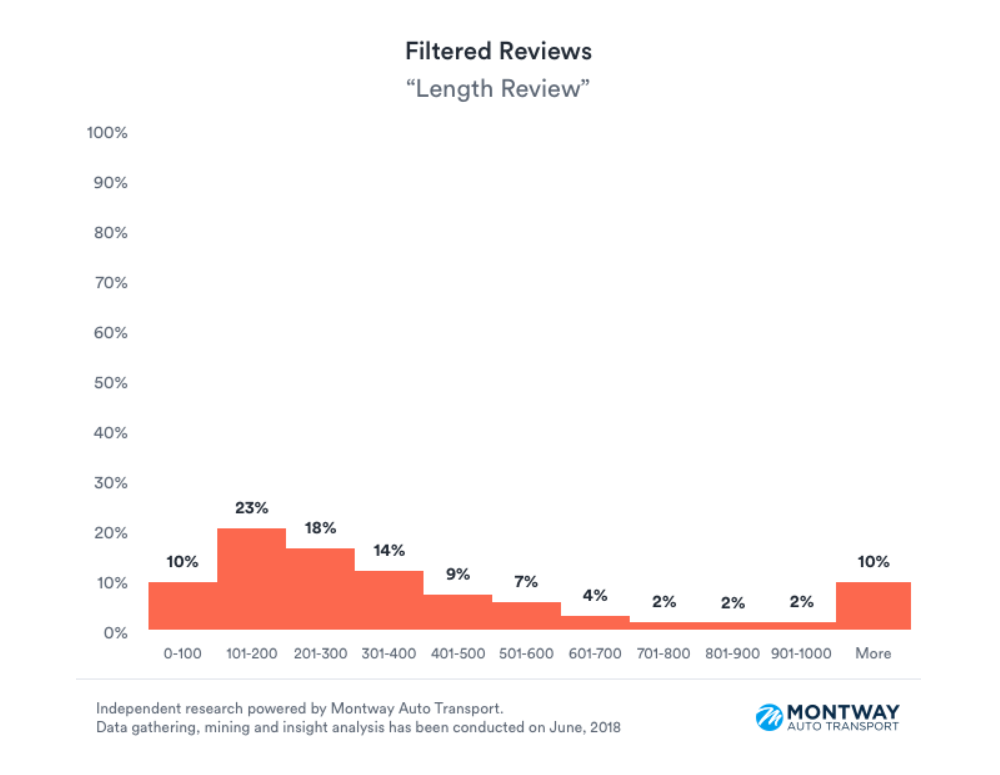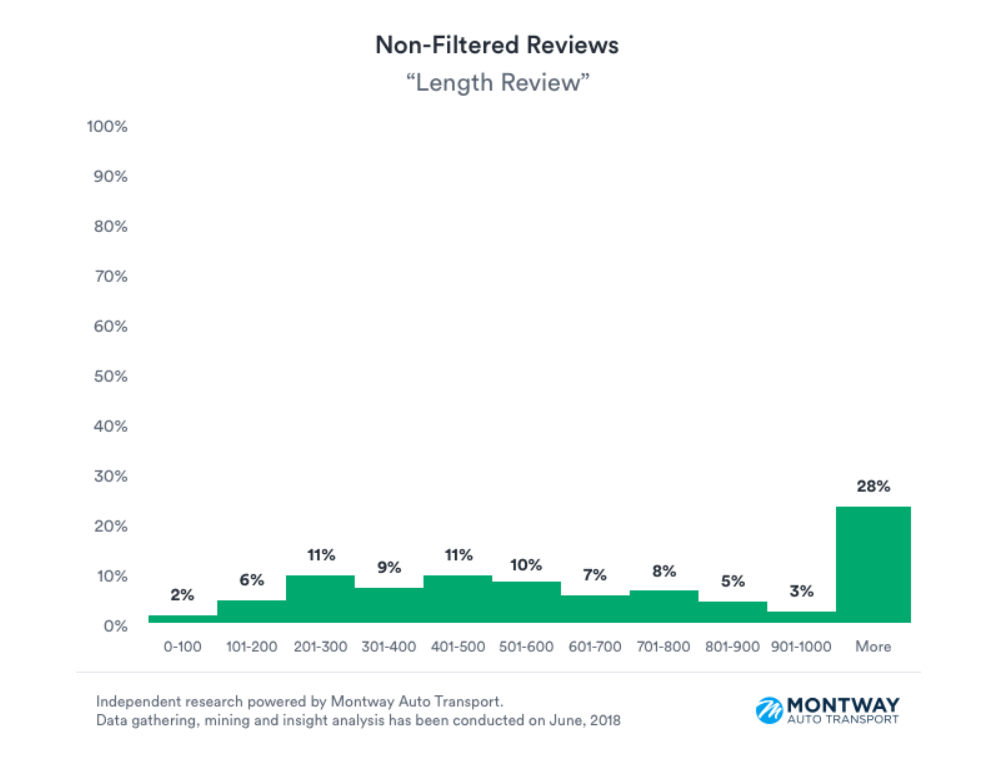 Montway Yelp Rating: Competitor Comparison
Our last step was to review other posts on Yelp and look for similar patterns. As you can see, Yelp handles filtered and non-filtered reviews the same way for any business:
Factor #1: Not enough friends

3/4 of

filtered

reviews came from users with 5 friends or less
25% of non-filtered reviews came from users with more than 50 friends

Factor #2: Not enough reviews

Over 60% of

filtered

reviewers came from users that have written 5 reviews or less 
Only 20% of non-filtered reviews came from users with 5 reviews or less
1/3 of non-filtered reviews came from users with 50 reviews or more

Factor #3: Not long enough 

63% of filtered reviews contained 500 words or less
1% of non-filtered reviews contained less than 100 words
56% non-filtered reviews contained over 500 words
---
All data used in the case study was gathered from publicly available information on Yelp. For accuracy purposes, none of the data has been altered or updated since the original case study was performed. If you have more questions about our Yelp rating or auto transport services, don't hesitate to give us a call (888) 666-8929 or contact our team on Live Chat.