Consider your options before
shipping a car across the country
by plane
Shipping a car across the country may sound like an ordeal, but you actually have options for getting your vehicle to its destination. Transporting your car by plane may sound like the fastest and safest method, but as with any car shipping option, you'll find both advantages and drawbacks.
Using a plane for shipping a car across the country is usually more expensive than the average cost of a new car, but it's a viable option for the right client. Shipping a car in a plane is safe, fast, and reliable, which is why Montway offers enclosed transportation for highly valuable vehicles.
Check out all available options below to see which auto transport type might be right for you or get an instant quote now:

Advantages and drawbacks
Although shipping a car across the country via plane is considered by many to be the fastest and safest method for transporting your antique, rare, or one-of-a-kind vehicle, many people also frequently transport these types of cars via enclosed car carriers without paying a fortune to do so. It's up to you to decide whether or not the benefits of shipping with air transport are worth the hefty price tag.
Air freight can be faster than transport via truck or ship depending on the destination. However, in many cases, it can take just as long to ship via plane as any other method. Many people also consider other forms of shipping to be dirty or more hazardous to their vehicle than shipping by plane, but this simply isn't true. All forms of shipping require that your car is handled by the transport crew, but they will always use the utmost care to make sure your car reaches its destination in the condition it was received.
If you're looking for enclosed transport or guaranteed delivery dates, these options are available via truck transport as well; you don't need to ship by plane to make sure your car is delivered on a certain day, as long as that day isn't tomorrow! For faster deliveries via truck, you can also request expedited shipping and door-to-door transport for more convenient delivery options. 
Below is a small table to quickly display the benefits of shipping a car across the country via truck, boat, or plane: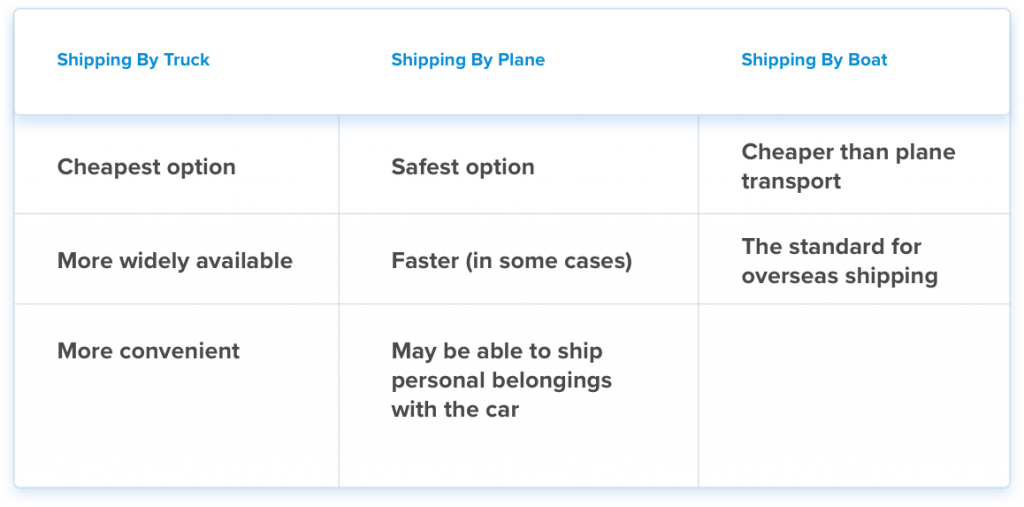 Why ship by airplane?
Transporting your car via air freight, as we call it in the transport industry, is significantly more expensive than transporting your car by land or sea. Whether you're shipping your car overseas or simply need a faster alternative to land travel, using airline transport is a viable option for the right budget. There are three main reasons why you might choose air freight:
Expensive or rare car

 – The most obvious answer is that you're shipping a highly valuable vehicle. For most cars, the cost to ship it across the country via plane would exceed the value of the vehicle itself. However, for rare, exotic, or other highly valuable cars, shipping via plane seems like the safest method.

Instead consider – Enclosed transport via truck is fast and safe, and provides ample protection against the elements. You can also enjoy door-to-door shipping for more convenient pickup and dropoff.

Faster Transport

 – When most people think of air freight, they believe that it's much faster than regular transit via truck. However, it still takes time to locate a plane to transport your shipment and get your car to and from the airport.

Instead consider – Montway offers expedited shipping via truck for those shipments you need as soon as possible. Because truck transport is more widely available, you can expect a truck to be available to transport your car sooner rather than later.

Overseas Shipping

 – The third reason someone might choose to ship their car via plane is that they need their car shipped overseas. Again, shipping via plane is much more expensive than land or sea transport, and the shipment will certainly arrive faster than via ship. However, the customer may still need to locate alternative transport to get their car to the port or airport for overseas travel.

Need help with overseas transport? – Montway will ship your vehicle to any port within the United States via international car shipping, and we will assist with finding overseas travel transit. 

Bottom Line
If you're in need of overseas transport, shipping via air freight could be considered over boat transport if you're shipping a highly valuable, rare, or antique vehicle. However, if you're transporting within the United States, consider the cheaper and more convenient option of shipping a car across the country via enclosed transport. Take advantage of our special options like door-to-door shipping, expedited transport, and guaranteed delivery dates to make sure your one-of-a-kind or custom vehicle receives the white-glove treatment from pickup to drop off.
Request a quote today using our online calculator, and receive your custom shipping quote in minutes. If you need specialized help or have questions, call one of our advisors, or speak to a representative to learn about your options for shipping your car across the country.