What is a dealership service drive?
If you've clicked on this blog post, you're probably already familiar with the concept of a service drive and may even have your very own service department to manage. For everyone else, here's a quick definition: an auto dealer service drive is where customers can meet with service advisors to discuss any maintenance or repairs their vehicle might need and have the service completed by the dealership's certified experts. The service drive is often inside the dealership, making it a one-stop shop for customer service and sales. It's also a golden opportunity for dealerships to build lasting relationships with their customers and create the foundation for sales in the future.
Why the service drive is important for dealership profits
With vehicle sales still rebounding and dealerships seeing reduced foot traffic in their showrooms, dealers need to capitalize on their strengths wherever possible—and the service drive is one of the greatest assets dealerships have at their disposal. The service drive provides the perfect opportunity to build customer loyalty, get customers interested in buying cars and ultimately generate more revenue.
Consider where dealership service drives stand in the current marketplace and how service drives play into dealerships' overall profits: "Less than 1 in 3 service visits are at dealerships" with 25% of customers going to general repair and service stations for their auto service needs, according to a study from Cox Automotive. Meanwhile, "53% of the average dealership's gross profit comes from the service department." As you think about these numbers, also keep in mind that it's far more expensive to acquire new customers than it is to keep existing ones. One HubSpot study states that retaining an existing customer is anywhere from five to 25 times cheaper than acquiring a new one. This highlights why it's so important for dealerships to leverage their service drive and improve customer retention by providing an exceptional customer experience.
There's big money to be made in the dealership service drive. An article from Automotive Mastermind explains that "pre-pandemic, service department sales were on the rise, increasing from $50.4 billion in 2015 to 62.6% by 2019," and while numbers did fall to $51.9 billion in 2020, they have since rebounded to $60.4 billion in June 2021.
While car sales have declined due to widespread inventory shortages and the rise of remote work keeping drivers off the road, car owners still need to bring their vehicles in for repairs and regular maintenance. This ongoing need for auto service is what makes the service drive an invaluable resource for dealerships, as long as they're prepared to make the most of it.
For even more data on the value of your service drive, see our Dealership Service Drive By the Numbers report: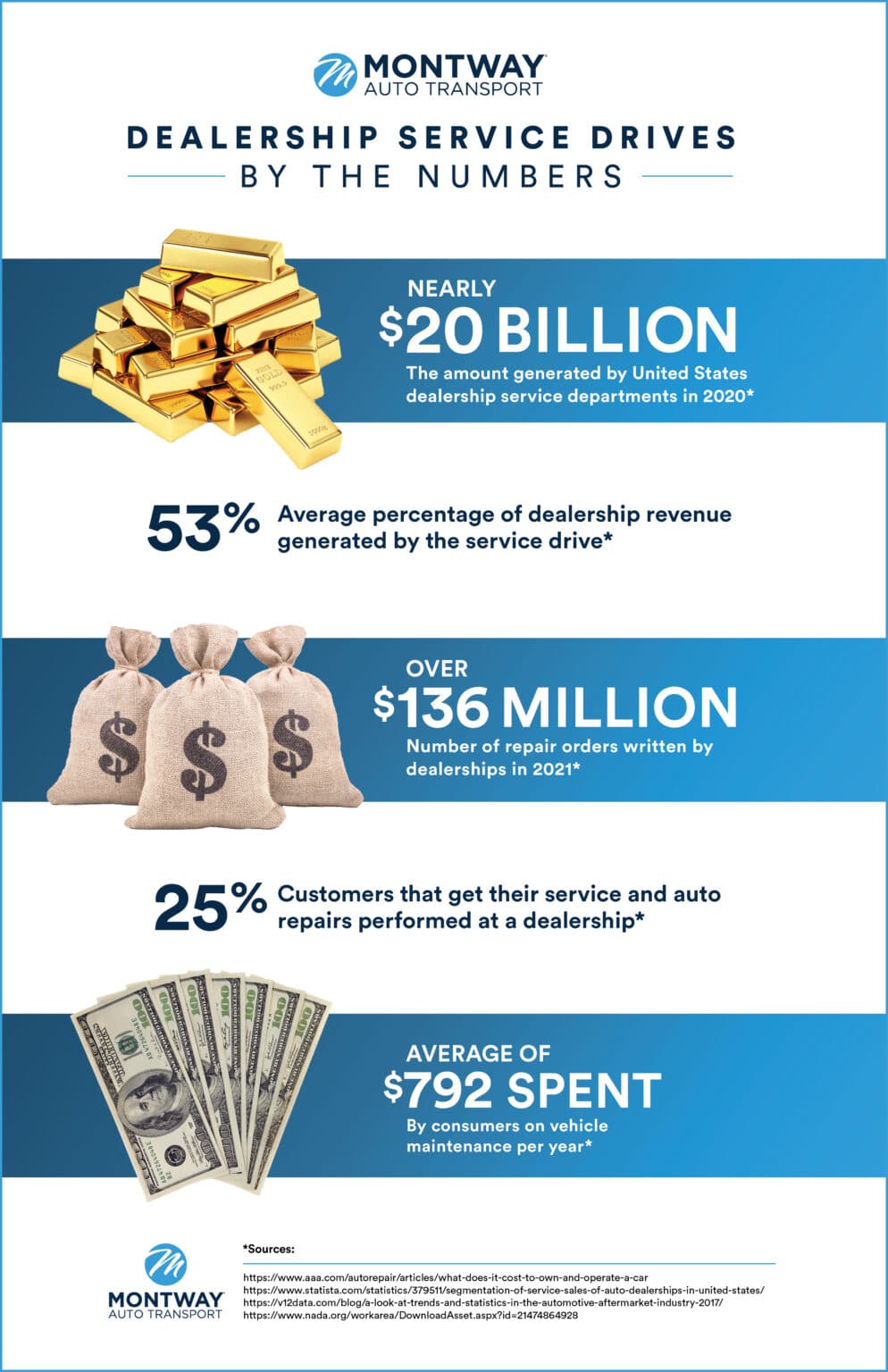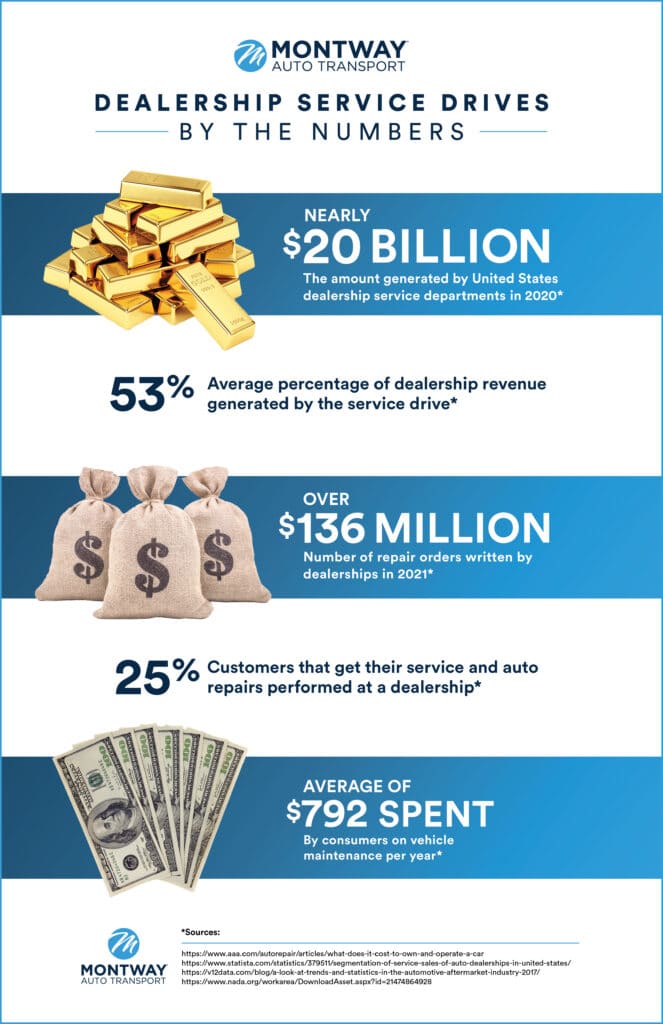 Now we'll outline effective strategies for dealerships to maximize their service drive. If you're a dealership wondering how to increase service department sales, consider these tips: 
Make a plan to improve service drive profitability
No two dealerships are alike, so there's no magic rule for creating a service drive strategy that works for everyone. However, there are some general guidelines that can help. We know that service drives are crucial for dealership profits, and satisfying existing customers is the key to keeping them coming back. So how do dealerships create a strategy around retaining their service drive customers?
(Re)evaluate your current plan
Nobody wants to shop around at different dealerships and service centers every time their car needs a repair. If you're able to satisfy your customers with easy and effective service, you'll keep them coming back and increase the chances that they'll purchase from your dealership when they're in the market for a new car.
To ensure that your service drive is operating smoothly, take note of your current approach and make adjustments as needed. How many customers do you typically get per month? Do you have enough staff to quickly accommodate your customers in a timely manner? What are the most common services being requested, and do you have the right equipment and skilled professionals to handle these requests?
Adjust your plan accordingly so you know what to expect and are always prepared. This could involve hiring more technicians, providing additional training or making changes to your schedule. You will also benefit from talking directly with customers to get a first-hand account of their experiences.
Making sure you have a clear understanding of the day-to-day work in your service department, along with the resources to perform them efficiently, is a crucial first step in creating a service drive experience that will build customer loyalty.
Assemble the right team for your service drive
Having a plan is one thing, but you need the right people to make it happen. We mentioned earlier that it's important to have the right person available for each service appointment, but building a strong team goes beyond that—it extends to every part of the service department and the dealership as a whole.
Building your team starts from the top with management hiring and scheduling the best people to perform the jobs. It even reaches into sales and marketing to make sure no opportunities are lost when it comes to identifying customers and referring them to the dealership's service drive. Additionally, the service drive personnel should be in the know when it comes to sales opportunities like which pre-owned vehicles would be valuable to acquire or which cars at the dealership are in high demand. Having a team that excels in their individual areas of expertise and is also unified behind a common goal will lead to success within your service department and dealership.
Make sure your scheduling and availability align with the traffic and requests coming into your dealership. Whenever a customer enters the service drive, you should have a service advisor available to properly handle their request. Set yourself up for success by reviewing upcoming service appointments and confirming that the best person for the job is available for the appointment.
Common roles every service drive should have
While every dealership may have its own requirements, there are some common roles every service drive should have.

Service advisors
Certified technicians
Parts counter personnel
Cashiers
Car detailers
Lot porter
Customer service representatives
Utilize modern tools and marketing technology
With the right team and plan in place, your dealership will be well-positioned for success. But to fully optimize your service drive and your business as a whole, it's essential to utilize technology to generate sales and predict your existing customers' needs before they come to you. This same technology will often help you market to your customers and score more sales.
If you're not taking advantage of modern marketing and customer service technology, these strategies won't be feasible. Investing in a customer relationship management (CRM) platform and marketing tools will help you get more cars coming through your service drive and more customers visiting your dealership. A Dealer Marketing study revealed that "service is responsible for 47% of dealership gross profits, but in most dealerships, service marketing comprises less than 10% of the marketing budget."
With existing customers delivering greater ROI than new prospects, it's advantageous to market to your existing base to keep them coming back for ongoing service. If anything, it'll pay to boost your current marketing budget to increase brand awareness with your customers and outshine the competition. Here's how you can use CRMs and digital marketing tools to build your brand and generate more revenue:
Be proactive
By keeping detailed records of your customers' auto history, you can proactively reach out to them when it's time for their next maintenance appointment or predict when their vehicle will be ready for service again. CRM software makes it easy to track sales, trends and individual customer profiles. With automated software keeping track of your customers' history, you'll know when their vehicle is ready for routine maintenance and can easily prompt them to schedule an appointment.
Through consistent marketing to your existing customers via automated messages, your service drive will stay top of mind, as will your dealership when it comes time for those customers to buy a new car. Without this technology, these appointments will likely slip through the cracks and your customers will find themselves at a local mechanic or service shop when they require maintenance.
Share information and offer solutions
Carfax reports that a shocking 53 million cars are currently driving around with open recalls—that accounts for roughly 20% of all cars on the road. Dealerships have thousands of customers, so it's likely that a good number of them have recalls that are in need of repair. This is an opportunity to make contact with the customer to share this information while letting them know that your dealership's service drive is able to fix the issue. This strategy reinforces your commitment to the customer's safety and the health of their vehicle. A simple gesture like this will instill confidence and nurture a lasting customer relationship. It will also establish your dealership as the go-to place for information and assistance.


About Montway Auto Transport
Montway Auto Transport is an industry-leading vehicle shipping company with over a decade of transportation success, innovation and growth. Through a mix of innovative business solutions, an extensive carrier network and award-winning customer service, Montway provides auto logistic services to help dealerships succeed.
Whether you're acquiring new cars for your lot or delivering them to customers, Montway can help. We're the highest-rated auto transport company in the country and have the expertise and capacity to handle any order, from single units to full truckloads.
Call 888-998-4161 and speak with a representative to get started.