This article was inspired by the input and insight of real-life truckers and other friends and fans in response to last week's blog, "Anatomy of Autonomy: Profile of a Self-Driving Truck." Thank you for your comments! You can follow the conversation on our official Facebook page.
It makes sense that the hype surrounding a "self-driving" truck would fuel images of driverless semis barreling down highways, trucking issues and jobs overlooked in the glare of electric blue lights and flashy technology. In some ways, Inspiration's most publicly marketable feature, its autonomy, has done serious damage to the truck's reputation within the industry.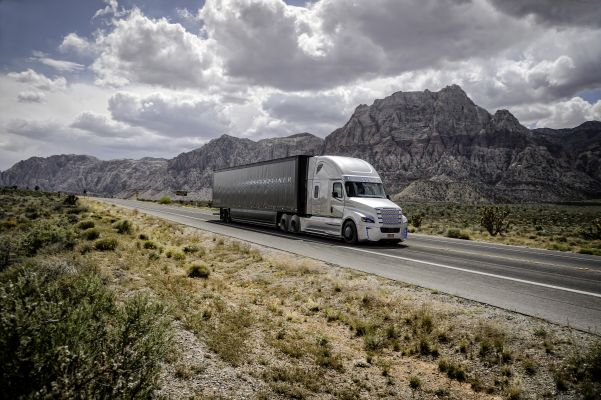 Many worry about what autonomy means for trucking jobs, regulations, and pay. One truck driver from Louisiana commented that nothing beats good training. Others emphasize the importance of human responsiveness to 4-wheel drivers or fear that horrifying accidents will result from over-reliance on the technology, such as complacent drivers or a computer virus. There is frustration over this focus on futuristic technology, while current equipment and infrastructure needs go unaddressed.
Inspiration's arrival atop the Hoover Dam was designed to capture the attention and imagination of the general public. This revolutionary rockstar, however, isn't what the people actually behind the wheel needed to see.
Forget autonomy–seriously. We have to look past that to actually understand what may be exciting–and frightening–about the new autonomous truck.
À la mode Autonomy
So what's the big deal about autonomy? It seems silly to get excited about self-driving trucks if you look at it from the perspective of the trucking industry, an area as much defined by drivers and their culture as it is by freeways and freight. But auto-autonomy is red-hot right now, and efficiency isn't easy to see. Showing up with an self-driving truck is going to capture more headlines and hype than the most eloquently worded presentation on efficiency.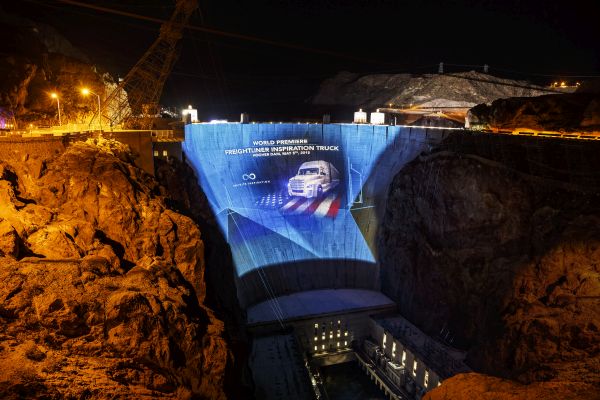 Daimler Trucks North American (DTNA) spent five years working on a 2009 DOE "SuperTruck challenge" to develop a more fuel and heat-efficient tractor-trailer. In March 2015, DTNA unveiled its SuperTruck prototype. The truck featured the same 115 percent freight efficiency improvement and the 12.2 mpg achievement of Inspiration. This was exciting news for the trucking industry and the U.S. Department of Energy (DOE).
But it certainly didn't speed across the world stage. For a real show-stopper, DTNA had to take it to the next level.
Would it surprise you to know that Inspiration's autonomous features were added only within the last six months of development?
Autonomy became the cherry on top of the SuperTruck sundae.
(Real) Breaking News
For all the applause over autonomy, Inspiration is still a SuperTruck. The real significance and impact of Inspiration is efficiency. Inspiration is 115 percent more freight-efficient overall than any truck ever. It gets 12.2 mpg, when most of today's Class 8 trucks can barely achieve 6-8 mpg. That's the news the trucking industry can really take to the bank, and just maybe, get excited about.
Built of lightweight materials, streamlined, and aerodynamic with a 10.7-liter engine, Inspiration weighs in at 700 lbs under the average Class 8 truck. It's a hybrid with an eHVAC, run off the hybrid system and solar panels on the roof. Automated features for fuel economy, energy, and safety management remove the human-error factor for greater efficiency.
With Class 8 trucks weighing in at 33,000-80,000 lbs (loaded to unloaded), every mile gained in fuel economy can save thousands of dollars per truck each year.
Learn more about our door-to-door shipping services
Doesn't Really Drive Itself
Calling Inspiration a "self-driving" truck gives the wrong impression of vehicle autonomy.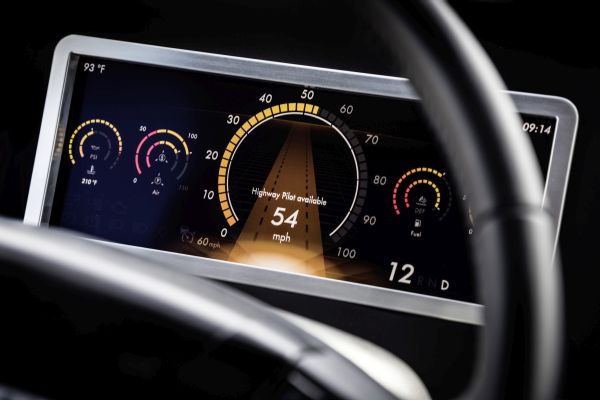 Highway Pilot cannot follow signs, change lanes, enter or exit highways, or dock, by itself. It can't even respond to an accident in another lane or react to animals about to cross the road. Inclement weather? Forget about it; Inspiration only functions autonomously on clear, sunny days.
All it can do "by itself" is stay in a lane, control speed, and maintain distance from other vehicles. Its best feature? It's really good at letting the driver know when he or she needs to take control.
"This is a system that only works on the highway, and you could take the driver out, but then the truck would just endlessly drive down the highway and would be effectively useless," NPR described.
Inspiration's "self-driving" feature is more similar to autopilot on an airplane. Imagine hundreds of miles of unbroken road, and you may see the similarity to the way a plane can "fly itself" through the sky in the middle of nowhere.
Today's Technology
The tech that makes Inspiration "self-driving" isn't that different from basic safety and efficiency systems in our cars and trucks today, such as anti-lock brakes and cruise control.
Inspiration's ACC plus system is based on Freightliner's adaptive cruise control (ACC) system, with the added ability to control speed, stop, and go, without driver intervention. The Highway Pilot system, which makes Inspiration autonomous, was introduced by Daimler in July 2014.
"At the end of the day, the Inspiration is evolutionary, not revolutionary," said Martin Zeilinger, Daimler Trucks AG, Head of Advanced Engineering.
In-Cab Office Space?
DTNA has repeatedly insisted autonomous systems can reduce stress and increase convenience. "We don't want to get rid of drivers," said Sven Ennerst, head of Daimler Trucks' development department. "We want to make their lives more efficient and easier."
Driving monotonous long-distance routes can be tiring and stressful. While in autonomous mode, driver drowsiness decreases by about 25 percent, according to DTNA testing.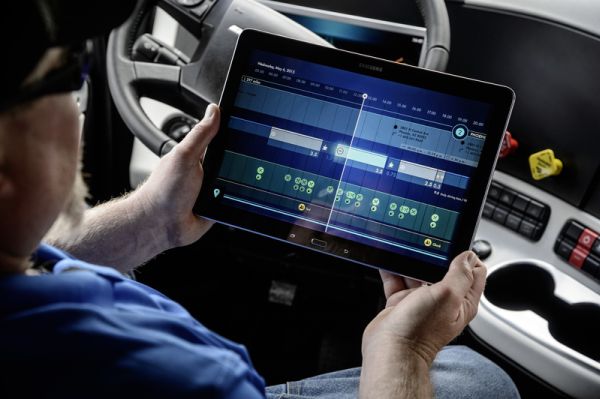 A major part of the trucker workload is driving steadily along miles of unbroken road. Inspiration can keep itself on the route, while drivers, often their own managers or owner-operators, can do paperwork, logistics, and communications from the cab, instead of at truck stops or during rest time.
But truckers don't necessarily see this as a benefit. Many drivers don't feel the need or desire to trade the wheel for the workbook. Several insist simply that being attentive and in control at all times is as much a part of the job as any other aspect of managing a truck.
One trucker from Fort Wayne, Indiana, commented that he doesn't need to spend hours catching up because his paperwork is always up to date. He added that he would never drive an automated truck, which he feels takes the fun out of driving and the fun out of the job.
Rise of the Machines?
In short, Inspiration specifically isn't a threat to trucker jobs (currently two drivers are required to operate the licensed truck), but there is a threat from the technology it represents.
One point in autonomy's favor is that it reduces human error. Inspiration can't get tired, distracted, or start a shift hung-over.
But Inspiration also doesn't need a salary, healthcare, or breaks. Although human oversight will always need to be part of freight movement, opponents insist that even highway-only self-driving will hurt trucker jobs. Many truckers are convinced the industry is seeking to do away with drivers altogether or at least looking for ways to cut already too low wages.
Richard Howard, DTNA Senior VP of Sales and Marketing said, "The driver is a key part of a collaborative vehicle system." Yet tech exists today that could allows trucks to enter, exit, and park autonomously, as well. Some car manufacturers, such as BMW and Ford, are working on autonomous and remote-activated parking.
"If there are savings to be found in eliminating truckers from drivers seats, which there are, these savings will be sought," said Scott Santens, writer and moderator of /r/BasicIncome on the effects of poverty, inequality, and technological advancement on modern society.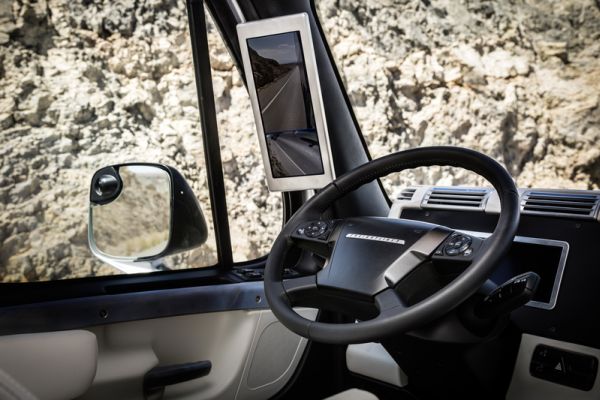 Wirelessly linked platoons are being discussed as a possible major cost-and-fuel saving option. Reducing headway between trucks utilizes "drafting" for fuel efficiency. Vehicle-to-vehicle communication would allow 3-5 trucks to virtually lock onto the lead truck, with only one driver.
This is a direct example of how the pursuit of efficiency can affect jobs. Platooning would save 5-6 percent fuel efficiency, but eliminate the need for 2-4 drivers for every 3-5 trucks.
With the cost-savings these strategies can provide, it's very realistic to fear jobs will be impacted. Either way, it rolls out, the question isn't if it will affect the trucking industry, it's how much.
What the Future Holds
What those behind the wheel want to know is how much of a threat will autonomy be to the future of driving jobs. The real advantages of Inspiration, efficiency, safety, and convenience, won't matter much if the majority of truckers aren't around to benefit from them.
Right now, DTNA also doesn't think the public is ready to let big rigs off the keychain. As Martin Daum, DTNA CEO said, "Society might forgive a number of deaths caused by tired truck drivers at the wheel, but they would never forgive a single fatal crash blamed on a fully automated big rig."
Concern that automated systems could be led to negligence, complacency, or out-of-control highway disasters, means that for now at least, not one, but two truckers are required to drive Inspiration. But this isn't changing the outlook for the many who are voicing anger and fear that any way you spin it, autonomy is simply a threat to the future of trucking jobs.
It's obvious that Inspiration's less-flashy, freight-efficient forbearer, DTNA's SuperTruck, can greatly benefit the industry, environment, and safety overall. It's less clear where the added autonomy will drive our future. Either way, understanding what autonomy actually means, why Inspiration was invented, and how she came to be presented, leaves us better able to discuss and direct decisions and developments involving this technology, the stakeholders, and our future.
Don't hesitate to get your free expedited car shipping quote